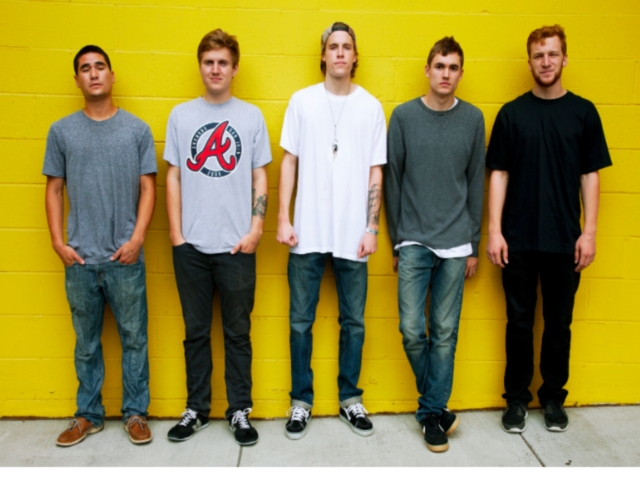 Embarking on their biggest tour yet, punk rock youngsters The Story So Far are still fresh off Warped Tour and are heading back across the pond with A Day To Remember this winter. At the halfway-mark of the tour in Philadelphia, idobi writer Alex Rudisill spoke with bassist Kelen Capener on their rising success, the tour's progress, and introducing their love of hardcore to their fans.
Considering the tour is halfway through, how has it been going?
It's nice cause we got to put everything together really. We kind of knew in advance what kind of tour it was going to be. It's been consistent with the reaction we've been getting – there's a reaction for every band on the whole tour. We brought out two opening bands that are lesser known but good friends of ours, so it's a good opportunity for them to get their music out there.
Why do you think the mix of hardcore and pop punk bands works for this tour?
We're more of a skunk punk band really. I'd say we transcend the whole pop punk thing. I think that it works well. Our friend, who runs "The Stuff You Will Hate" blog, put it into perspective for us, saying we're more like a melodic hardcore band. It's not as much pop punk with certain elements as it is a hardcore influence because the guys listen to hardcore, amongst other things. We listen to more genres than just pop punk, just because the pop punk bands we grew up on aren't making music anymore. It's dabbling into that genre. We do have a good crossover with a band like Stick To Your Guns. I think Rotting Out is more of a pure hardcore band, so maybe they're harder to digest for people who are more fans of our band. I think a lot of people that see them play and the reaction they get are kind of turned on by it. Maybe some are freaked out by it, but they can stand aside and wait for them to do their thing and let the kids who are really invested have fun. They've been killing it every night, as all the other bands have.
After the holidays, you're heading back overseas with A Day to Remember and Every Time I Die. What can you expect from that tour?
It'll be different. It's really the biggest tour we've ever opened for. We were just there, which is funny; we always end up coming back. A lot of those people aren't going to be coming out to see us. It's an opportunity for us to build up our fan base over there – show people who we are for 30 minutes, walk off stage, and hang out in Europe and be cold.
You guys are really committed to non-stop touring. Has it started to take its toll?
Maybe the honeymooning period is over with this tour, but it's still good. I definitely think at some point everyone starts getting sick. We all get along pretty well, but it gets tough; we haven't been sleeping much the last couple of nights and we've been traveling a lot. You do get exhausted. It's harder to have a great time when you're exhausted, but we're still having a good time. We'll get our energy back and we'll finish it out well.
How flattering is it that almost fifteen dates of this tour are sold out?
It's scary to do a headliner. You put together a package, you hope it's gonna sell out a venue – not just sell out a venue, but receive a good reaction out of everyone that's there. Not only are the shows selling out, but each distinct band on the tour has been receiving a reaction in some form. It's nice that we were able to put something together and have it be this successful because you never know how it'll turn out with all the competition.
Would you rather headline a tour or support your favorite band?
I would want to support one of my favorite bands. We've done this and we've hung out amongst ourselves enough. It's really more of a learning experience when you go out with a band you admire and you see how they do it every night. When we went out with New Found Glory, we watched them and saw how they performed and how they still do it however many years later since they became a band. They have a lot of wisdom to share.
When you're finally off the road this spring and have some room to breathe, what are your plans?
Probably more touring, then we'll eventually sit down and start writing. I think anyone who plays guitar or bass is always getting their hands on writing new things. We've finally been coming together trying to write new ideas and new songs, so hopefully we'll get some time after touring is done for the year to actually sit down and only focus on that.
You guys are all still so young. When did you all decide to focus your lives on touring instead of going to college or getting a real job?
I think it was after the very first tour we did. We wrote the record, not knowing what was going to happen with it. [We thought] we'd still be a band, but keep it more local for the sake of playing shows and having fun and getting it out of our system. When we did the US tour for the first time, more and more kids started turning up. The reactions got better and we were like, "We can't even get this at home!" We had great shows at home, but to have those same kind of shows on the east coast and all over, and then realize that people are actually receiving this record and it means something to a lot of these people…they're sharing it with their friends and it's an exponential growth process. We decided to pursue it. Ryan and I were stuck in school for that last year because we'd already committed. We didn't know this was going to happen. Just last year, Ryan and I were able to get out of school. So it's been about a year of full touring since we got out of school.
2013 is coming to a close and you've had an incredible year, with the release of What You Don't See in March, Europe, Warped Tour, and now this tour. What has been the biggest highlight?
Warped was great. It's one of those tours you wanna take off the bucket list for your band. We had a really good run on it. It was the first time we didn't do a tour in a van – we got to be in a bandwagon with a driver. It was nice cause we got to sleep, they fed us well, then we just played for 30 minutes every day and hang out with all our friends in the bus park. We were too stubborn to even go to our bandwagon every night.
Tags:
The Story So Far