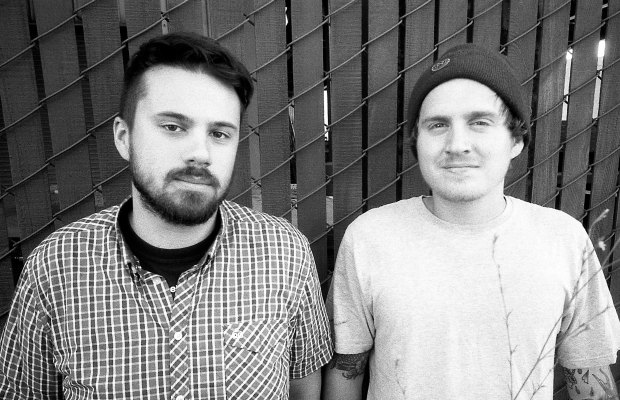 After releasing their fantastic debut full-length earlier this year, Elder Brother–consisting of Kevin Geyer (The Story So Far) and Dan Rose (Daybreaker)–have constantly been out playing shows across the country. idobi writer Catherine Yi caught up with Dan during their brief west coast winter tour to discuss why bands should never break up, that one weird song on the record (you know which one I'm talking about), the best albums of 2014, and more.
How has the current tour been?
Yeah, it's been awesome. It's fun to go on tour with The American Scene. We've gone on tour with them about four times with various bands at this point. Souvenirs has been really cool too. I never really checked them out before this tour and their new record is so good.
And how excited are you guys for the upcoming tour with Anthony Green?
That's gonna be awesome. We just randomly got asked to do that and we were like, "Yeah, we'll do that." Kevin can't even go to the east coast shows, he's had some prior obligations, but he was like, "Yeah, you should probably still do those." And then we're doing the west coast ones, which will be cool.
Oh okay, so it's just gonna be you out there on the east coast.
Yeah, on the east coast we have a different little band that we're gonna be doing, like a little trio acoustic thing. But then west coast we're gonna do full band.
Anthony Green has been in multiple successful bands at the same time. But then you get guys like Dallas Green who left one successful band for another project. Do you think it's possible to be in multiple successful full-time projects at the same time?
It's hard to say about full-time, but I don't think it's impossible to be in two different bands that are both working and doing cool stuff. It's probably pretty hard to be in two bands just because of how the industry is with touring, how you have to tour to get bigger and make money. It's probably hard to do that with two bands unless you want to be gone all the time, but I definitely think that it's possible to have two projects that you care about or multiple projects that you care about.
I know when you started Elder Brother, it was called a side project at the time. Do you still consider it a side project?
I mean, it's never been my side project. You'd have to ask Kevin, but I don't know. I don't even think about it really. We've never not been able to do something that we wanted to do so I would say if being a side project means you're not a priority then I don't think that's what it is. It's hard to say.
I know Daybreaker's kinda been on a break right now…
Yeah, we haven't even discussed playing music in many years, but I think that officially breaking up as a band is like the lamest possible thing you could do because who knows if one day you want to get together and play with those people again. Why would you ever make it into a big thing unless you're trying to make it into something it's not? Like, "Oh we broke up but now people care again so we're back together…just kidding, we're gonna break up again now!" Like, who cares. If you're a band, then you are a band forever in my opinion [laughs]. Eventually you might want to play with those people again.
I saw in the initial press release when the band started it was like a "Oh, let's just make music and see what happens" type of deal. How has the reaction over this year compared to what you were initially expecting?
I would say that I wasn't expecting really anything because going into the project we hadn't even written any songs so I wasn't even sure what it was gonna sound like. But just over the past year it's been awesome. People actually like the music and that's all you can really ask for. I really like the record that we made and I really like the music that we're making now, which is really all that matters.
So when you did begin writing for the project, what was the typical songwriting process between you two?
It's pretty fun for us because I work for The Story So Far too as their tour manager. So Kevin and I would be out on tour and he'd start playing some riff that could never in a million years be a Story So Far riff and I'm like, "What's that?" And he's like, "I don't know, it's something." Eventually we thought we should just start making these riffs into songs because I liked them and felt I could probably write some cool stuff with them. So he would start recording the ideas that he was having instead of just playing them, and then I was recording stuff and sending it back and forth when we weren't on tour. Eventually we were just like, "Yo, let's just record something and see what happens." We had a pretty good relationship with Jake Round who runs Pure Noise Records. He runs the record label but first and foremost he's one of my good friends. We were like, "Jake, what do you think about this?" And he was like, "Yeah, sure. Book two weeks and see what happens. I'll put it out. It'll probably be good." And so we did and the rest is history, I guess.
I know the lyrics can be pretty personal on your side. Do you tend to write them or does Kevin also contribute?
I write most of the lyrics and my friend Gus, who's like a silent member of the band, writes a lot of the lyrics. Like, he would help me. He was my old roommate so we would write stuff together and the stuff that we wrote together turned into the stuff that I brought to the table for Elder Brother. He's definitely written a lot of stuff for Elder Brother and a lot of that is lyrics.
One of the most polarizing tracks on the album, I think, is "A Slow, Comfortable Deep Breath." I was wondering what the reasoning was behind including that, like creating the track and then deciding to just throw it into the middle.
I don't know…I kinda don't want to say anything about it just because how much it pisses everybody off. I don't think I wanna give anybody any sort of satisfaction. If you don't like that song, then there's a lot of you. I won't even say anything [laughs].
Is that you talking?
No, it's not me talking.
Is it just a sample you found?
I don't…I'm not gonna unveil any of the mystery [laughs].
Okay, it will remain an enigma forever.
[laughs] It means a lot less than anybody would ever think, I'll give you that.
What do you guys have planned next year after the January shows?
We just recorded an EP. Details for that will be released pretty soon. I think pre-orders are gonna go up in January. Other than that, we've talked about recording another full-length soon, but no specific plans. And then past that Anthony Green stuff, not a lot of touring planned, but I'm sure we'll do something.
I included Heavy Head on my list of top albums from this year–
Hell yeah.
So I wanted to know what were some of your favorite albums of 2014.
I haven't even thought about this yet…the new Ryan Adams full-length self-titled is probably my favorite. The 1984 EP that came with that, also up there. That'd be number one on the EP list if I were to break that down. Cloud Nothings record, I really liked a lot…I'm blanking on anything else that came out this year. I know that there's tons of records that I liked that came out this year and I just can't think of anything. Ryan Adams and Cloud Nothings.
Top two?
Top two.
Alright, cool.
Might not even be top two [laughs]. Top two of right now.
Tags:
Elder Brother