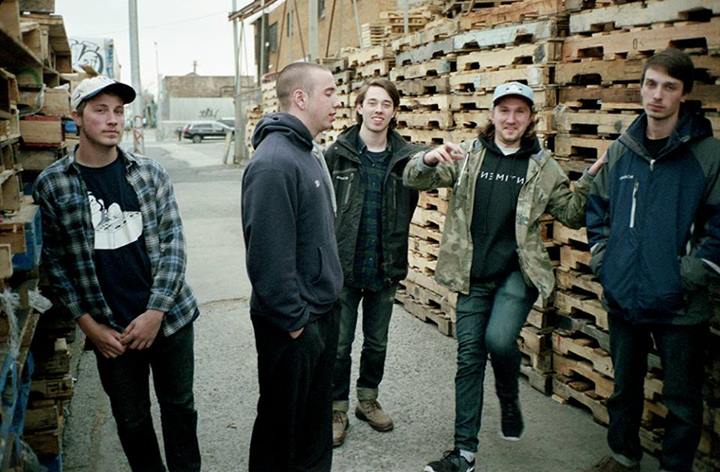 Ohio/Michigan natives Citizen have proven themselves to be one of the scene's fastest-growing bands this year, releasing an acclaimed debut album and holding their own on the road with pop punk favorites like The Story So Far and Man Overboard. idobi editor Eleanor Grace sat down with guitarist Nick Hamm and drummer Jake Duhaime in Toronto to talk about the writing and recording of their debut full-length Youth, the band's own youth, winter tour survival tips, bowling analogies, and much more.
You guys just kicked off this tour on Friday in New York. You're direct support for Polar Bear Club and also on the tour are Sainthood Reps and Diamond Youth — two really solid bands. What are you most excited for about the next month and a half being on the road with these guys?
Nick: Well, this is the first tour we've done that we hadn't toured with one of the bands before, and we didn't know anybody too well either. So more than anything I think we're all just really stoked to just hang out and get to know everybody better, cause so far everybody is really awesome. It's kind of a cliché answer but I think all the bands on the tour are really cool.
Jake: It's been super, like, magnetic personalities and it's literally only day four so it's only gonna get way more fun once we get to know each other. On a small scale I'm definitely excited to play Vancouver, which I've never been to. It's supposed to be sick. Everyone says it's beautiful. I wanna go to the Olympic Village and stuff and just really see what it's about, cause I have pretty much no notion of it other than that people really like it.
Obviously this can be a really tough time of year to tour. What are some survival tips you try to keep in mind when you're doing a month and a half long tour as it's starting to get really cold?
Jake: To not pack like an idiot, which is exactly what I had done, and so I'm currently paying for it. Nick brought long johns, and I'm extremely envious of that. Tomorrow is Detroit, so I get to stop at home and pack some shit. And of course, bring a sleeping bag. I used to try to just bring a blanket or just borrow shit but like…more often than not you end up really cold on a floor and it is pretty miserable.
Nick: Our singer [Mat Kerekes], he tries to get away with bringing as little as possible. I feel like several times he's like, lost his pillow, will only bring a blanket. Didn't bring a jacket on this tour, I don't think.
Jake: He said he did. I think he lied.
Nick: He's lying. We're kind of like dads towards him sometimes. We have to pull teeth to get him to wear his coat outside.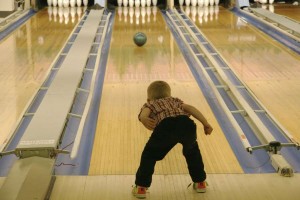 Jake: Yeah, Mat is a bowling ball, and we are like the bumpers in his life, to get him to where he needs to go.
What are the bowling pins in this analogy? I'm just curious.
Jake: Success.
Nice! I'll have to do an accompanying graphic for the article.
Jake: Absolutely. Please.
I feel like 2013 has been such a huge year for you guys. Obviously you've been putting in work for a while, but this year you put out your debut full-length album. That's always a really big statement for a band. How have you guys felt about both putting the album out and the response that it's gotten and seeing how everything's grown over the past six months?
Nick: For years leading up to doing Youth, we've wanted to do an LP, but it just never seemed to be the right time. Like, we would write things, and then maybe a few months later we'd be like, "We don't really like this," and we'd scrap it. Then it finally got to the point where we were writing songs and we had a vision and we knew what we wanted to do, so it was just like time to do it. And the fact that we were able to gain so many new listeners was just really awesome because we — we didn't expect people to not like it or anything, but we definitely didn't expect the response that it got. So, this year, because of that, has been completely nuts. And even right now at this show, and we did a headline show yesterday and some headline shows a few weeks ago, we've been really surprised at the amount of people that have been coming out and checking us out, even if they haven't heard us before. It's just been really really good.
What have been some of the most memorable moments of this year for you?
Nick: Well, maybe a week and a half ago, or two weeks ago —
Short memory, huh?
Nick. Yes. [laughs] We played Cincinnati, and we sold out the venue. And that was the first time we've pulled that many kids in Cincinnati. Being from Ohio, it just gets me really stoked when we can play for a lot of people in any city in Ohio and it's very responsive. So that was really cool. Besides that, I think finishing the record — like, as soon as we finished the record, we were listening back to it and that was just so cool, to be able to listen back to something that was in the making for a really long time. That was probably the best thing about the year.
Jake: My journey so far in the band has been an extremely brief one. I'm, like, obscenely fresh — this is maybe my eighth show or something like that. But it's pretty surreal to see kids who are like, so affected by what we're doing, what I'm now a part of. To be on some sort of footing like that has never crossed my mind in all the years I've been doing this stupid music stuff. So it's kind of crazy to sit and think about.
Pretty good way to start out your journey in a new band.
Jake: Yeah! It's been awesome.
In addition to the fact that you were saying you really had a vision with the writing of the record, when it came time to actually get in the studio and capture that, what were some of the other ways that you approached it differently than the EP's and the splits?
Nick: I feel like sonically, when we went into the studio, we definitely wanted to do something different. It was the first time that Mat had ever toyed around with layering his vocals, cause we had always done it pretty straightforward, maybe two vocal tracks. [Producer] Will Yip had been messing with this way of layering even like ten vocal tracks a whole song. I don't think there's a point on our record that there's not eight vocal tracks minimum. I know he did that on the Daylight record and a few other records. It really brought out a certain characteristics of Mat's voice that I felt like hadn't been pushed to the forefront yet. And I feel like that was like a big change. I definitely feel like with Youth we were not scared to write a calm record, you know what I mean? I don't think it's like — it could be a lot more calm, but —
Jake: It's not catatonic. It's contemplative.
Nick: And we weren't scared to do that this time around. Whereas before, it was like, "Well, we need this amount of bangers," and Youth it was just like, "Let's write songs that we like and not worry about if they're stage-dive worthy" or whatever. Like, that's not the point. I think when we went to record Youth that was probably the biggest difference — just not being afraid to write certain kinds of songs that we were before.
I feel like your songs really have a vibe to them, and obviously a big part of that is Mat's writing and his lyrics, but when you're approaching writing the guitar for a song, what are some of the ways that you try to capture some of that same emotion even though you can't express it in words?
Nick: Usually Mat's songs are very like, he has something in mind vocally and lyrically and he'll write to that. And my songs — Youth is like half his songs and half my songs, and with my songs I don't really think about that so it's very guitar-driven. Vibe-wise I think what's actually cool about my songs is that I don't have a certain sort of vibe in mind and so when Mat combines that with his lyrics it kind of gives you a certain feel. It doesn't always agree, but it's in a cool way. I can't really explain it, but for example the song "Your Head Got Misplaced" is one of the brightest songs I feel like we've ever written, but Mat's lyrics are so dark, some of the darkest lyrics that he's written. And I feel like that just makes for a really good combination. I feel like it's cool that we're able to kind of put our heads together like that and make something that isn't so expected.
That's awesome. So we're coming towards the end of the year. What have been some of both of your favorite releases of the year so far?
Jake: That Wild Nothing 7" that just came out, Empty Estates, is incredible. I've actually only recently just spent a ton of time with it and it's so addictive. It's so short and I really can't get enough of it. Feast of Love [by Pity Sex] came out this year, correct? Absolutely in love with that record. We're all from roughly the same area so of course there's really personal ties that go with that. It's really cool to see their success and that they put out a really good record. It goes beyond personal, but that's such a part of it. What else came out? On the heavier side, there's a new Mammoth Grinder record that I've been spinning nonstop. I'll just leave it at three.
Nick: I'm really into The National's new record Trouble Will Find Me. I think it's without a doubt the best National record. And I have a way of thinking that certain records are a band's best and nobody agrees with me. I haven't read reviews of it or anything, so I don't know if people agree with me, but I think that that is a really cool record and I think it's The National's best work. Merchandise put out a record called Totale Night that I thought was super good. New My Bloody Valentine album, which I always forget came out this year. I actually don't spend as much time with it as I probably should. And the new Demolition record is really good.
What's left on the to do list for 2014?
Nick: I think I can speak for everybody on this — UK, Europe, another country. We gotta get out of North America. Like, it's gotta happen. That's absolutely something that we wanna cross off for 2014. I feel like, you know, we just put out a full-length album; we have to go to another continent. So that's really what I'm pulling for next year.
Jake: It's just such a top priority. Like, that's all I've been thinking about. We want to do quite a bit of touring on the new record and to get it to new audiences, and that's the new audience we have to get it to. They seem to really want us over there, so some theoretical planning is in order and we really wanna cement that next year for sure.
I have a question for you as well, Jake, since you are really new to the band. Obviously you were saying you've grown up with these guys, but what are some of the other ways that you find yourself making connections to the music and feeling like you're a part of it even though you're new to the band and weren't involved in the writing process?
Jake: Mat speaks about pretty particular things that have happened in his life, but at the same time — and this is where it starts to connect with everybody — it's applicable amongst everybody. It all is rooted in hurt and being young and vulnerable and just full of so much emotion that you cannot keep it in. And like, I've been there. I'm 23 now and am no longer as adolescent as I once was, but playing these songs and singing along to myself with these lyrics, it actually really does turn up a lot of things that like I've gone through in my life and I can connect with Mat on that level. And that's why people are so affected.
You talked just now about being young and the fact that all the songs come from that place, and obviously the album's called Youth and you are really young guys. How do you feel about coming up in a scene that I think is really responsive to young bands doing their thing and having those doors open to you?
Nick: I seriously love the fact that we're so young. And even though labels like Run For Cover have been around for a while, they very much so are just being exposed to like large masses. And I think it's so cool because when we were first starting out the band, Run For Cover was like the ~cool~ label in our eyes. And that was something we wanted to be a part of, and the fact that we are now is crazy to me. And like…me and Mat are 19 years old. And it's just different to be 19 and be touring and tackling it while we're so young and don't have so many obligations and responsibilities. It's different than if you're 27 and you're just starting to tour and stuff. It really wears you down, I feel like. At least I've seen that amongst a lot of other bands that are older. It was perfect timing for us to be able to do something like this, and I think it's really cool that not only are we coming up while we're young but labels like Run For Cover are getting popular now pretty young.
What are some of your favorite other bands on the Run For Cover roster?
Nick: Like Jake was saying, Pity Sex. I love Hostage Calm. Daylight are super cool. GDP is a fucking awesome rapper that's on RFC.
Jake: There's a rapper on Run For Cover?
I didn't even know that.
Jake: He's way more in tune to the demographic and everything than I am, being pretty new to the whole family and everything like that, but I'm very much a fan of Pity Sex. I'm a really recent Daylight convert — I regret spending time not listening to that Jar record. I think it's extremely well-written and we just played with them at Fest and they did extremely well live. Those are probably my two favorites. Was Fireworks on RFC? They're alumni now, but they're one of the most talented bands…period. Like, they transcend any genre. They're just so good at what they do. So I give it up for Fireworks because I really love that band. And they're also from Detroit as well, so that's just the cherry on top.
Tags:
Citizen