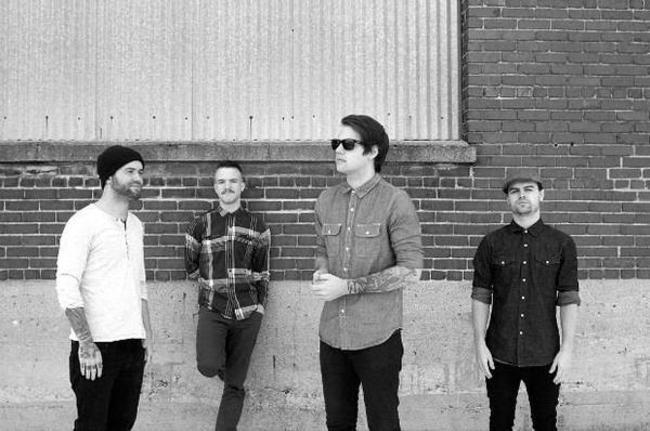 Beartooth kicked off their first full US tour with August Burns Red, Blessthefall, and Defeater at Union Transfer in Philadelphia on Friday night. Frontman Caleb Shomo, formerly of Attack! Attack!, has put his darker past behind him and is moving forward with the hardcore outlet, as well as his electronic side project, Class. Caleb took some time between sets to speak with idobi writer Alex Rudisill about tour, what's next for the band, balancing his projects, and even John Mayer.
You guys made the Sick EP available for free download. How did that idea come about?
That was just a thing that came up between us and our record label. Let's just get this out to as many people that can get it. You just go in and put in your email address and we'll send you more stuff when we have it. I think it's really cool, I've never actually done that with something. It makes me stoked because more people are gonna be able to get to hear it. If they like, they'll be able to get to know more about what's going on in the future. If they don't like it, they can do whatever they want. It's nice to know that people get it.
This show kicks off the first full US tour that the band is embarking on. What can fans expect?
We just like to have as much fun as physically possible. We go crazy and get our energy out as best we can. That's just what we want out of shows; we want everyone to feel like we feel on stage. I hate when there's the misconception from people that we're the band on stage and the fans are down there and aren't as cool. We'd look like idiots if we were just standing up there playing to nothing. I just want kids to have a good time and enjoy themselves, to know that barrier in their minds shouldn't be there and that we love them as much anyone else in the world, that they're there to be free and have a good time.
How does it feel to be a part of such a diverse lineup on this tour?
Awesome! It's really cool. I would love to do tours with indie bands and hardcore bands and metal bands and whatever band. I don't really care as long as it's honest, good music and they enjoy what they're doing and are cool people. I think diversity is great in music and I think people don't really give it enough credit sometimes or are closed-minded to it. "If it doesn't sound like 'this,' I don't like it." That's whatever, but people should still respect it and should still be okay with people writing diverse music. In my opinion, if you're writing something that means something to you and it's a true emotional expression of how you feel in the artform of music, then I'm fine with it. I think it's incredible and that's about as good as it gets.
You guys filmed a music video in LA two weeks ago. Can you give us any hints about it?
It's for "Go Be The Voice," which is the second song on our record. I honestly don't even know how to explain it. It's very bizarre. There's a lot of art that went into it with the shots and symbolism from this and that, like with beauty and power and the way the world views it. It's gonna be awesome. We just got a first draft not too long ago and I think it's beautiful. Hopefully it'll be out sooner rather than later.
What made you want to start a band like Beartooth over another band like Attack! Attack!?
When it started, I wanted to try something different, to expand. I didn't expect Beartooth to be a band. I just wrote those songs by myself in my basement. This is the way I express myself with a lot of the really dark stuff that was going on at the time when I was actually leaving Attack! Attack! I put a song on YouTube when I said that I was quitting. I was like, "Look, I've made some music, I'll play some shows here and there, check it out." I expected the response to be terrible honestly. I expected everyone to be like, "This is nothing like Attack! Attack! was, this is horrible!" People actually accepted it for what it is. They just kind of responded in a positive way, like, "If this is what you wanna make, that's cool and it's cool that you're expressing yourself." I would never, ever compare them to each other. They were two completely different points of my life. I think it gives me more freedom on stage, more lyrically, and musically in certain ways. It's loud, fast, and wild.
What is the scene like in your hometown?
I haven't been involved in my hometown music scene for so long. It was pretty wild for a while and it was really cool, then the hardcore scene just kind of faded off. It kind of changed, and honestly, the pop scene and indie bands are great. Obviously, twenty | one | pilots, they're an amazing band. They're really cool guys and good friends of all of ours. They were just a local band from Columbus, OH, and now they're a massive, national band on the radio. I would say one of my favorite bands from Columbus is a band called Truslow. The guy who played guitar for Attack! Attack! live for like two years, Sean Mackowski, is in that band, along with some other cool friends. It's like nothing else. It's really cool and very unique. If any band, check them out.
If I looked on your iPod right now, what was the last song you listened to?
I think the last song I listened to was "Gravity" by John Mayer. I love the album, Continuum. That's one of my favorite records of all time.
You recently performed at South By So What with your EDM side project, Class. You also performed there with Attack! Attack! in 2010. How did these experiences differ?
I can't even pinpoint the 2010 show itself, but I'm sure it was a great festival. The Class show was completely different, really cool. I got to play during this monitor and stage changeover before Memphis Mayfire and Sleeping With Sirens played on the main stage. I had a 35 minute set right before they went on, so I was like, "Man, this is an insane slot!" I was actually really nervous that people wouldn't like it, like, "What is going on? This is so weird!" I played for about 15 minutes and people were going nuts, having such a good time! I was so stoked about it. Then, it got cut off because of weather, so I literally only played for 15 minutes. It was seriously one of the best 15 minutes ever. It was so much fun.
A lot of hardcore and metal fans resent any kind of electronic or EDM music. How do you deal with that kind of criticism since you dabble in both?
For me, how I've grown up into music, I've loved them both since I was young. I was making electronic music before I got into hardcore music and playing it. I'm very specific with Beartooth and Class, that Class is just electronic and is not in any way anything other than that. Beartooth is a "rock band": guitar, bass, and drums. I don't want to integrate the two because I just don't. I just want to venture into those two worlds separately and see what happens.
How do you balance both of your projects and still manage a home studio?
A lot of work. I finished a record for a band called Sylar, who are really awesome, not too long ago. It was good to work with them and their label. It's pretty wild working a month in the studio while mixing and mastering, while writing a Beartooth album then practicing our live show. I'm married and have a dog, and that's the most important thing and I have to prioritize that over all of it. It's just crazy balance and a lot of work, but at the end of the day, I love it and wouldn't change any of it.
What does Beartooth have in store for 2014?
Tour. We have two tours lined up after this, working on a third and a fourth. One in February and March, then one in April that's actually overseas. It'll be in the UK and Europe which'll be really cool. Then, hopefully, a nice big summer thing and more in the fall. I think we're trying to put the record out around January, February, or March.
With 2013 shortly coming to a close, what is your New Year's Resolution?
I really wanna learn how to sing better. I want to learn how to control my voice more and really get better at that. I practice and I try and get better. I wanna push myself and make our show or any vocal performance as good as I can possibly do.
Tags:
attack attack!
,
beartooth