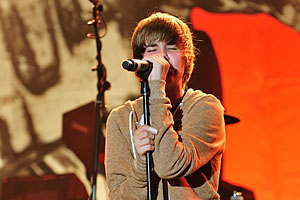 If Internet pranksters have their way, Justin Bieber will be performing in one of the world's most oppressive regimes. Communist North Korea is currently leading an online poll on Bieber's My World Tour website, where the 16-year-old singer asked his fans to choose which country he should tour in next. Bieber didn't put any place off limits and, of course, Web-based troublemakers took full advantage of the trusting Canadian heartthrob.
Users of the website 4chan-an influential Internet subculture that introduced the world to lolcats — made sure North Korea received over a half million votes, catapulting it from 24th place to 1st place. That puts the despotic communist country ahead of Israel by about 5,000 thousand votes — and if nothing changes before the contest wraps on July 7, it will make North Korea the winner.
Considering almost no one in North Korea is allowed on the Internet and the country's restrictive media probably doesn't give the mop-haired Bieber much coverage, it's fairly unlikely that any of those half million votes came from actual North Korean citizens.
Regardless of the online poll's outcome, North Korean dictator Kim Jong Il and Bieber's tour manager can probably agree on one thing: the adorable, elf-like singer almost certainly won't be adding the harsh regime to his world tour.
This isn't the only thing the Internet has done to punk Bieber lately, though. Over the holiday weekend, hackers broke into Bieber's YouTube videos and redirected preteen fans to false articles about their idol dying in a car crash. And those were actually some of the more kid-friendly websites to which fans of the 16-year-old singer were redirected.
The rumors were so prevalent that the boy himself made a point of tweeting about it.
"Let's take some time to answer some crazy rumors…I'm not dead," Bieber posted on his Twitter account. "I had to check on this one…but it turns out I'm alive."
Furthermore, he also assured fans that he's "not Peter Pan," demonstrating that the music sensation has a sense of humor about himself. Being a wildly popular teenage superstar probably takes the sting out of being the butt of Internet jokes like these.