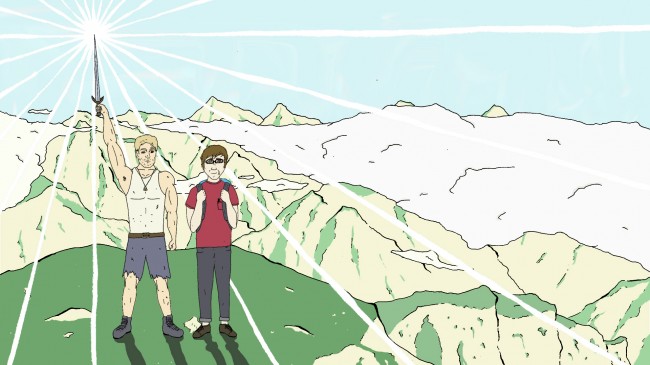 We're excited to give you the premiere of "Bomb.com", a new song/video from Astro Safari USA. The duo, composed of Jayce Levi and JP Clark (ex Secret Secret Dino Club, Young and Divine), venture through a trippy alternate world to the tune of their infectious single.  Always pushing the limit of what is deemed "acceptable" by American culture, Astro Safari USA is a reflection of the current times delivered in an old school throwback fashion. The duo has spent the last 3 years in the studio working on music with some of today's top names in the music industry.  Refusing to be tied down to any one genre, the group has played sold out shows across the country with pop acts such as Aaron Carter, American "cultural ambassador" Andrew WK, superstar rapper Juelz Santana and many more.
"Bomb.com" also serves as  the theme song from their upcoming short film and soundtrack titled "Astro Safari USA: Future Cover Songs". The film was written and directed solely by the band. It is the story of Jayce, a sincere but delusionally successful local musician tries to make it big in the music business.  With the help of his best friend and roommate JP, they set to conquer the realities of big show business with a small town mentality. Their band Astro Safari USA is pushed to their limits when the record label executive demands a hit song. Film and soundtrack available this August.
Check out the video below and be sure to follow Astro Safari USA on Facebook and Twitter to keep up with the band!
Tags:
Astro Safari USA
,
Exclusive