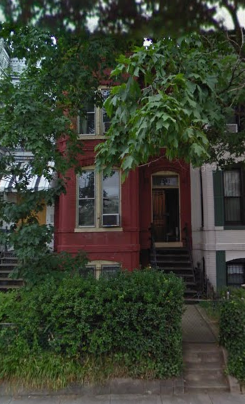 WASHINGTON – In a stunning development, idobi founder and CEO Tom Cheney has left his District of Columbia apartment.
The 37-year-old web programmer and rumored caveman had been holed up in his basement lair for the past year with no contact with the outside world. Having survived off of a diet composed exclusively of Chinese carryout, Coca-Cola and weekly Peapod deliveries, Cheney was noticeably gaunt upon his reemergence in society. His skin tone was also visibly lighter, believed to be due to abnormally high levels of melatonin acquired during his hibernation.
While Cheney admits that this step is a large one, he stressed that it did not mean he would be venturing into the fresh air on a regular basis.
"I have the shit I need here, so why would I want to keep leaving?" he asked. "I'm planning to go out periodically just to remind people that I'm still alive."
In fact, rumors had been swirling that Cheney was dead. An extensive check of the Social Security Death Index last month revealed no records to support this, and now it appears that the suspicions were in fact inaccurate. Vice President of idobi Network Lance Fiasco claimed he knew all along that his boss was alive, and attributed his apparent disappearance from society to what he called Cheney's laziness and tendency to deceive.
"He was just playing one of his usual games, that asshole. This is actually not unusual, and it was just a matter of time before he came out," Fiasco said.
Doctors say that given continued exposure to the sun, Cheney's skin tone will return to normal within a matter of days. But the Atlanta native has bigger problems to confront, such as an ambivalent staff and a larger-than-life pile of work that has backed up during his sojourn from society. The latter issue has done much to raise Fiasco's ire in particular as he must now pick up a large percentage of the slack.
There are also technical developments to which Cheney must now adjust. During his absence, idobi.com was overhauled twice and its servers were moved repeatedly.
Fiasco said he had no choice but to become the sole manager of the Internet radio station's operations after Cheney seemed to have dropped off the face of the earth. And when asked about the future, the bitchy queen did not rule out the possibility of a permanent takeover.
"Tom Cheney has gone too far with his ridiculous shit this time. I cannot say anything with certainty, but I would not be surprised to see major changes since after all, I'm the only reason that idobi is still on the air. And don't say I'm not because you know I'm right all the time."