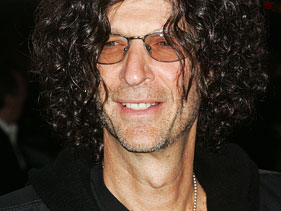 On Monday, Howard Stern not only confirmed reports that Fox is interested in hiring him to replace departing "American Idol" judge Simon Cowell, but that the interest is mutual.
"There's not a better job on the planet than judging a f—–g karaoke contest," Stern told his satellite radio listeners. "It might be possible, we'll see."
Stern, who frequently dissects "Idol" on his radio program, joked that the deciding factor in the negotiations might be the size of the paycheck show producers are willing to shell out for his services.
"They'd have to pay me a ton of dough, because I already make a ton of dough," he said.
Stern's five-year, $500 million contract with Sirius XM is set to expire in January of next year. And according to some reports, "Idol" producers are prepared to match that deal.
"A $100 million to judge a karaoke contest? Yeah, I think I would do that show for $100 million," Stern said. "It would be the best thing that happened to me. What a cush job: $100 million for four months. Who wouldn't take that?"
Stern added that he wouldn't do a radio show if he landed the "Idol" job, and said that, while the show is "nothing" without Cowell, he had read reports that it was the acerbic Brit himself who suggested the longtime shock jock take his place at the end of this season.
"I'm not going to comment about any discussions I might or might not have had," he said. "I watch 'American Idol.' … people seem to think that if I was on it, because I'm such a foul-mouthed, miserable f—, that I would get them thrown off the air. I know how to judge."
And to that end, he said that, really, he's the best man for the job, since he'd be able to replace the acerbic wit the show would be missing without Cowell.
"If I do say so myself, I can't imagine anyone else but me replacing [Cowell]," Stern said. "I mean, how else are they going to make that show work? Who knows how to broadcast and who knows how to be interesting? And who's not afraid to speak their mind?"
And what else would Stern bring to the table? Well, judging by the jokes he made about current "Idol" judges Randy Jackson and Ellen DeGeneres, he wouldn't be opposed to sparring with his fellow judges. And when asked about the kinds of critiques he'd offer up to auditioners, he replied with this hypothetical nugget.
" 'Hey Fantasia, you're not getting little boys hard. You look like you stepped out of a cartoon. … They want a Britney Spears or a Rihanna," Stern said. "Little boys are scared that you are going to sit on them. You're out. … You've got to go clean up your act. Get a haircut like Rihanna if you want little boys [to get excited about] you."
Should make for an interesting show! A spokesperson for 19 Entertainment, which produces "American Idol," had not responded to MTV News' request for comment at press time.
Tags:
American Idol
,
Simon Cowell