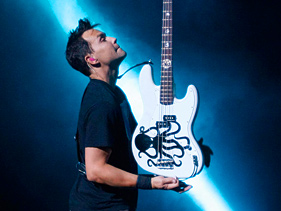 Mark Hoppus has heard all the talk about the Blink-182 album not coming out until 2011, and he's determined not to let that happen.
It all started earlier this week, when he tweeted, "2011 is too far away. Gonna do all I can to have a Blink-182 album in 2010." And when MTV News caught up with him Thursday night in Los Angeles, he laid out how he plans to finish the album, which has been in the works for more than a year now. As it turns out, the first step is just getting everyone together in the same room.
"We did a bunch of writing before we left on this tour, then we came home and decided we were going to take a couple of months and chill and do other stuff, then get back together in the beginning of the year," Hoppus said. "And now that it's almost February, we decided it's time to get back in the studio and do what we do. So that's the plan: just get back together and get to work."
Seems simple enough. But when Blink reconvene in the studio, what will their new songs sound like? We've already heard Tom DeLonge describe the new Blink songs as "ambitious" and "the work of our life," but by now, we're sort of used to him saying stuff like that. So we asked Hoppus to fill us in.
"We definitely want to try a bunch of different stuff. I think it will still sound like Blink. I think it will still be catchy. I think it will still be poppy, but we want to be weird on this record," he said. "There's your pull quote: Mark Hoppus says 'We want to be weird on this record.' "
But from where will all this weirdness spring? Well, apparently from pretty much everywhere.
"Everybody listens to such different stuff. Tom is really into, like, '80s stadium rock; huge, monumental '80s rock bands. Travis is all over the place, musically, and he always comes up with beats and drum parts that are so way out that I would never think of them," Hoppus said. "And I've just been listening to a lot of weird indie rock. So somewhere between amazing hip-hop beats, stadium rock and indie rock, you'll find Blink."
And while he's trying very hard to get the follow-up to Blink's 2003 self-titled album in stores this year, Hoppus also hopes fans will be patient. They want this to be the album of their lives, after all. And just because each member of Blink is also working on other projects – DeLonge's Angels & Airwaves will release their third album, Love,on February 14; Barker is working on a solo album; and the Hoppus-produced Motion City Soundtrack album, My Dinosaur Life, hit stores last week – that doesn't mean Blink isn't still their top priority.
"I think that everything that everyone works on outside of Blink comes back to Blink. And being involved in all these different projects allows us to go off and try different ideas and bring those ideas back home to what we do every day. And I think it's a really positive thing," Hoppus said.
"I know it's confusing for people, because everyone's like, 'Tom's doing this, and Travis is doing this, and Mark's producing … why aren't you guys focusing on Blink?' But I think what people need to understand is that, that's how we focus on Blink. We go off, and we bring all these different pieces and ideas back, and we get inspired by other artists and get inspired by working with different people, and then when we come back to Blink, it just helps us."
Tags:
Angels & Airwaves
,
Blink-182