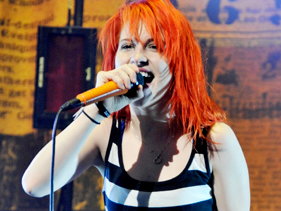 On his debut album, The Adventures of Bobby Ray, Atlanta's own B.o.B is looking to expand  his fanbase even further, to the Warped Tour set.
In addition to cameos by the likes of T.I. and Lupe Fiasco, Adventures also features Weezer's Rivers Cuomo on a track and, oddly enough, Paramore's Hayley Williams, who lends her vocals to a pair of songs on the album, one of which also features Eminem.
Needless to say, the idea of Hayley and Em sharing vocal duties raised eyebrows just a bit, which led to curiousity  on how the Paramore frontwoman ended up appearing on B.o.B's record in the first place.
"I was given the track a while ago while we were on tour. The guys and I all loved it. They told me I was crazy if I passed it up," Williams said. "I liked the part too much anyways, so of course I was down.
"I only found out about Eminem getting on the track like a month ago. As if the song couldn't get any better. He just slays me, he's such a genius. And I'm a big B.o.B fan. Got everything of his that I've been able to get my hands on," she continued. "Whether our fans know or not, I'm not sure, but Paramore bassist Jeremy Davis and I have always been really into hip-hop. It means a lot that I got to collaborate with a hip-hop artist who is from Atlanta. Not far from home. We Southern gals love us some Southern gentlemen."
Williams appears solo on a song called "Airplanes," and then she's joined by Eminem on an album-closing reprise, which, appropriately enough, is called "Airplanes (Part II)." But what do the tracks sound like? Well, Williams wouldn't  say much, which means Paramore fans are just gonna have to wait until B.o.B's album drops April 27.
"Both versions of the track are incredible, that's all I'll say," she wrote. "I'm so proud to be a part of this!"
Tags:
B.o.B
,
Eminem
,
Paramore
,
Weezer