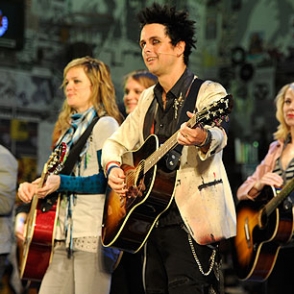 Green Day's American Idiot may soon hit the big screen. According to the Hollywood Reporter, Universal is in negotiations for the screen rights to the stage musical version of Green Day's blockbuster album and has hired Michael Mayer, the director of the stage production, to adapt the show into a movie. Universal has had previous success with Mamma Mia, the film adaptation of the musical based on the music of Abba.
Choose the Cover of Rolling Stone, Round Two: Vote by April 14!
In addition to Mayer, Oscar-winning writer Dustin Lance Black is in talks to write the screenplay, and Tom Hanks is in place to serve as a producer along with the members of Green Day.