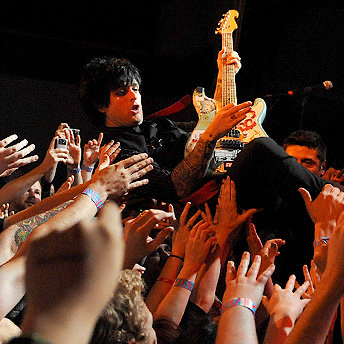 Green Day is continuing their march to an inevitable Number One album, setting up rock-opera shop at New York City's Bowery Ballroom on May 18th for the East Coast live debut of 21st Century Breakdown.
The band's Bay Area guerilla gigs in April all featured the record in its entirety. But at the Bowery, Green Day played a pocket-jukebox edition of the album, starting with the opening title track and the first single, "Know Your Enemy."
Then the new six-piece band – with singer-guitarist Billie Joe Armstrong, bassist Mike Dirnt and drummer Tré Cool assisted on guitars, keyboards and extra vocals by Jason Freese, Jason White and Jeff Matika – sprinted across the first two acts, concentrating on action-rock tunes such as "East Jesus Nowhere," "Before the Lobotomy" and "Murder City."
The result was less emphasis on 21st Century Breakdown's theatrical scope and more on its knockout-hit details: the pneumatic riff in "East Jesus Nowhere"; the iron-and-sugar pop of "Last of the American Girls"; the '69-Who dynamite in "See the Light," with Cool ramming home the Tommy-like climax ("We're Not Gonna Take It" for the post-Bush hangover) with brisk Keith Moon-ish drum rolls.
Playing most but not the whole of Breakdown also meant that Green Day did not have to spend the first half of the night remembering all of the words and licks – they could settle into performing the songs. Armstrong quickly got down to enjoying himself, nearly plunging into the crowd during the highland-fling section of "21st Century Breakdown." During "East Jesus Nowhere," he kissed a stage invader full on the mouth.
The goofy jubilation continued in the hour-long second set, with Armstrong quoting James Brown's "I Feel Good" during "American Idiot" and bringing a fan on stage to sing "Longview." Cool stepped out from his kit to sing and sling a guitar on a clattering cowpunk number, and the ska romp "King for a Day" became an extended opportunity for Armstrong to play soul preacher. Dirnt, in comparison, was a paragon of restraint. But at the start of "American Eulogy," as Armstrong sang the "Song of the Century" theme in his plaintive tenor, Dirnt laid a broad mean bed of barely controlled bass feedback underneath, sounding like trouble coming around the corner.
Green Day did not perform "Horseshoes and Handgrenades" with its blunt mission statement of "I'm not fucking around." But everything they did play made the same point.
Set list:
"21st Century Breakdown"
"Know Your Enemy"
"East Jesus Nowhere"
"Before The Lobotomy"
"Last Of The American Girls"
"Murder City"
"Viva La Gloria (Little Girl)"
"The Static Age"
"21 Guns"
"American Eulogy (Mass Hysteria/Modern World)"
"See The Light"
"American Idiot"
"Jesus Of Suburbia"
"Longview"
"Who Wrote Holden Caufield?"
"Dominated Love Slave"
"Going To Pasalacqua"
"She"
"King For A Day"/"Shout" (Isley Brothers cover)
"Minority"