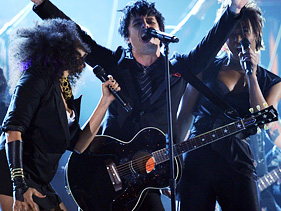 At the Grammy Awards on Sunday night, Green Day gave the world a preview of the musical based on 2004 album American Idiot.
Singing along with the cast of the show coming soon to Broadway, Billie Joe Armstrong and the band busted out "21 Guns," a cut off 21st Century Breakdown for which they all recorded a special version.
Directed by Tony-winning "Spring Awakening" helmer Michael Mayer, the show began a run at the Berkeley Repertory Theater in September 2009. Telling a story of love, loss and war, the musical integrates songs from American Idiot as well as 21st Century Breakdown and a never-released tune called "When it's Time." The production is set to begin previews at Manhattan's St. James Theatre on March 24 and then officially open on April 20.
"Michael Mayer is great; the cast is great," Armstrong told MTV News last year. "They're really passionate as artists. They put everything they possibly can into it. They're not trying to make it big and Hollywood. They're artists, and that's the most inspiring thing."
Mayer announced the move to Broadway earlier this month.
"Green Day's iconic album is one of the most brutally honest, eloquent and poetically theatrical responses to the post-9/11 world that I have encountered," Mayer said in a statement. "I hear in these amazing songs the frustration and anger and dreams of a lost generation of Americans. Collaborating with Billie Joe and the band has been a mind-blowing thrill from day one."
Tags:
American Idiot
,
Grammys
,
Green Day