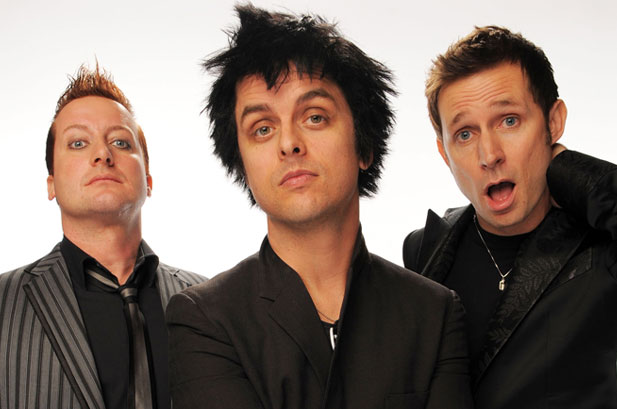 With a hit Broadway show and its own edition of the "Rock Band" franchise, Green Day is establishing itself as a punk-rock brand.
"I just like being diverse and trying new things as far as Green Day is concerned," frontman Billie Joe Armstrong said.
The Grammy-winning, multiplatinum trio joins the Beatles as the only other act immortalized in "Rock Band"; the video game is being released next Tuesday.
"It's like a glorified karaoke machine," Armstrong said. "Or 'Mortal Kombat' with guitars."
As players progress through the game, they gain access into the band's media vault, where they can unlock rare collectible images, and over 40 minutes of unreleased video. These include performances, outtakes, interviews, and even a tour of their transportation.
"You see old footage of us from the Bookmobile, and weird old performances and stuff no one's looked at in almost twenty years," Armstrong said.
Bits from those old performances help recreate the kinetic energy of the band playing live. Developers went through many hours of footage to get it right, and even used stand-in performers to fine-tune the computer-generated version on the punk rock trio.
"As far as video games are concerned it's pretty close," Armstrong said. "The Beatles wrote some of the greatest songs ever, but it wasn't challenging to get their movement down (on 'Rock Band') because they didn't really move that much."
Regarding their computer-generated likeness, the consensus was positive.
"Oh man, we're hot on computers," said drummer Tre Cool, while Dirnt joked: "I don't know if they got enough pimples on me."
In the game, players perform in three different venues, each significant to the band. There's a punk rock club, which is an amalgamation of various places Green Day played in the early days; the Fox Theater in their hometown in Oakland, Calif; and the site of their first stadium show.
"The Milton Keynes (stadium) show was quite momentous for us. It actually was the concert that was filmed for 'Bullet in a Bible'," Dirnt said, referring to the live DVD that was recorded in 2005 on the band's American Idiot tour.
It was at the cast party for the Berkley, California, version of the Broadway musical American Idiot, now nominated for three Tony awards including best musical, where the band was introduced to "Rock Band".
"Everybody got drunk and was playing 'Beatles Rock Band'," Armstrong said. "We were just having a good time with it."
After playing the game for the first time over a year ago, Armstrong doesn't consider himself a good player.
"I suck," he said. "I'm not very good at it."
Tags:
Green Day