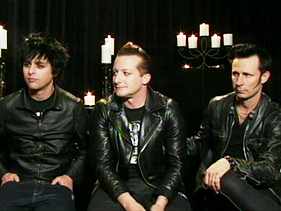 Green Day has been delivering power-punk to the mainstream  since Billie Joe Armstrong clutched a monkey in "Longview" nearly 15 years ago.  
The trio has done it all with one foot firmly entrenched in its hometown East Bay punk scene, stating its allegiance to gutter punks and Gilman Street at every possible chance. It's been both a blessing and a curse, eternally indebted to the past, but inching ever closer to the future.
With the reigning punk royalty out of the picture the past couple years, the number of punk releases declined sharply. Anyone hoping Green Day would bring about a revival of the genre should pack their bags.
Despite an insistence that Green Day remains guided by DIY punk, 21st Century  Breakdown seems to be a conscious move away from the genre and its limitations. On the album, Green Day is in touch with inner arena-rock, packing 70-something minutes with huge, windmilled guitars, thunderous drums, keening synthesizers, trilling strings and even a few lighter-worthy ballads.
Only, to hear Green Day tell it, Breakdown wasn't the product of some knee-jerk reaction or some stadium-filling aspirations … rather, it was the next logical step in a now three-decade journey.
"We just wanted to evolve naturally. There was no decision like, 'This is how we're gonna sound.' But for this it was like, 'Let's keep moving forward and see where the music takes us,'" frontman Billie Joe Armstrong explained. "I love a lot of, like, British invasion. I love, like, the Who and Cheap Trick and the Ramones. And it's like trying to take that power-pop or that pop-punk or whatever you want to call it, and stretching it into places that are further than we've ever gone."
And though it's a record of high ambition and huge scope, Breakdown actually got its start in a much humbler form: a couple of pie charts tacked to the wall of Green Day's East Bay rehearsal space.
"After we came back from tour, we started fooling around with ideas, coming into the studio with a blank page sometimes. You don't know what to do," drummer Tre Cool smiled. "So we got some drum heads and we put a nail in the wall, and we wrote sort of a pie graph thing, of different eras and genres on there, and we'd spin it, and it would say like, 'Death Metal, '60s Garage Psychedelic' or whatever, and then we'd be forced to go in and write something with that … that's how it all started."
And from those beginnings came an album that's already being called a monumental achievement, and a worthy successor to their globe-uniting American Idiot. And for Green Day themselves, it's been a liberating experience. Finally free of the shackles of punk, they're already thinking about their next musical movement … and dare we say, it might be a happy one?
"I think you can write about joy," Armstrong laughed. "I mean, technically, we were a slacker band back in the day … we didn't care about anything, but you keep evolving, you know? And I think we're capable of doing anything."
Thanks to three simple chords and plenty of snotty sneers, Green Day has sold over 65 million records worldwide, toured the globe more times that they can probably remember, taken on governments and tried to rebuild cities; expect the same in the  21st Century Breakdown  era.