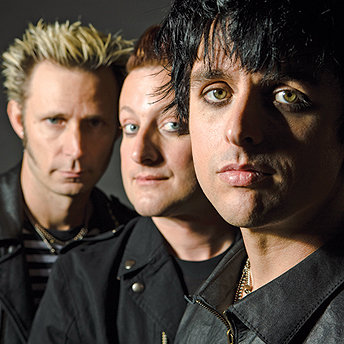 Last week Green Day announced the dates for their massive summer tour supporting May 15th's 21st Century Breakdown, and now the band has confirmed the venues they'll be hitting on their 38-date journey across the U.S. and Canada.
The band will be playing indoor arenas rather than amphitheaters.
The trek starts July 3rd at Seattle's Key Arena and ends August 25th at Los Angeles' Forum. Green Day have not booked any festival dates.
Following is a list of the official tour dates and accompanying venues.
July 3 – Seattle, WA @ Key Arena
July 4  – Vancouver, BC @ GM Place
July 6 – Edmonton, AB @ Rexall Place
July 7 – Saskatoon, SK @  Credit Union Centre
July 9 – Winnipeg, MB @  MTS Centre
July 10 – Fargo, ND @ Fargo Dome
July 11 – Minneapolis, MN @ Target Center
July 13 – Chicago, IL @ United Center
July 14 – Detroit, MI @ Palace of Auburn Hills
July 16 – Hamilton, ON @ Copps Coliseum
July 17 – Ottawa, ON @ Scotiabank
July 18 – Montreal, QC @  Bell Centre
July 20 – Boston, MA @ TD Banknorth Garden
July 21 – Philadelphia, PA @ Wachovia Spectrum
July 22 – Pittsburgh, PA @ Mellon Arena
July 24 – Hartford, CT @ XL Center
July 25 – Albany, NY @ Times Union Center
July 27 – New York, NY  @  Madison Square Garden
July 29 – Washington DC @ Verizon Center
July 31 – Nashville, TN @ Sommet Center
August 1 – Atlanta, GA @ Gwinnett Center
August 3 – Tampa, FL @ St. Pete Times Forum
August 4 – Miami, FL @ American Airlines Arena
August 5 – Orlando, FL @ Amway Arena
August 7 – New Orleans, LA @  New Orleans Arena
August 8 – Houston, TX @ Toyota Center
August 9 – San Antonio, TX @ AT&T Center
August 11 – St Louis, MO @ Scottrade Center
August 12 – Kansas City, MO @ Sprint Center
August 13 – Omaha, NE @  Qwest Center
August 15 – Denver, CO @ Pepsi Center
August 16 – Salt Lake City, UT @  Energy Sol Arena
August 18 – San Jose, CA @ HP Pavilion
August 20 – San Diego, CA @  Cox Arena
August 21 – Las Vegas, NV @ Mandalay Bay
August 22 – Phoenix, AZ @ US Air Arena
August 24 – Sacramento, CA @ Arco Arena
August 25 – Los Angeles, CA @  The Forum