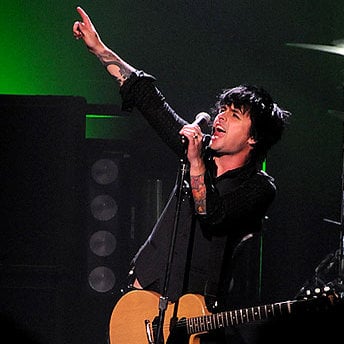 Green Day played the biggest show of its week-long tour of the San Francisco Bay Area April 14th, performing its upcoming album, 21st Century Breakdown, in its entirety.
After only eight full rehearsals of the opera and those two club dates, the six-piece Green Day – Armstrong, bassist Mike Dirnt and drummer Tre Cool with guitarist Jason White, keyboardist Jason Freese and guitarist Jeff Matika – had the Quadrophenia-like hang of 21st Century Breakdown's classic rock melodies and lifetime-punk drive down solid.
"I"m not fuckin' around," Armstrong crowed in "Horseshoes and Handgrenades," and there was no insecurity in the way he acted out the burning rage in "Christian's Inferno" (standing on a monitor speaker, arms outstretched like a human V-for-victory sign) and hissed the threatening vocal bridge in "East Jesus Nowhere" like hell in eyeliner.
Green Day handed out free deluxe programs with the album's lyrics printed in full, in case anyone wanted to sing along. But the shock of the set was the instant wham and cumulative pull of the hooks and riffs in songs like "Know Your Enemy" and the Who-ish shotgun climax of "American Eulogy" and "See the Light." The narrative was a lot to drink in at one time, on the first try, even with the words at hand. The music ensured you never felt left behind or at a loss. 21st Century Breakdown is a rock opera in which the rock always comes first.
After 70 minutes of the new, Green Day rushed offstage, then quickly returned for 70 minutes of the familiar. They went back to their Gilman Street days for "Going to Pasalacqua," and touched on the underrated Dookie-hangover records Nimrod ("King for a Day") and Warning ("Minority"). Green Day also played a big chunk of American Idiot, including both of its mini operas, "Jesus of Suburbia" and "Homecoming," showing just how far they've come, in risk and achievement, with 21st Century Breakdown.
The Fox Theater, in the band's hometown of Oakland, Calif. is an opulent, newly restored 1920s movie palace. The theater was the perfect – and perfectly ironic – setting for Green Day's 18 new songs about flaming youth and social collapse.  The Fox gig – with theatrical lighting and arena-pow sound – brought out the 3D dynamics in the songs and gave singer-guitarist-songwriter Billie Joe Armstrong a stage big enough for him to indulge his inner Pete Townshend and Roger Daltrey combined.
At the Fox, Green Day proved that the rock opera can be as punk as a Clash 45.