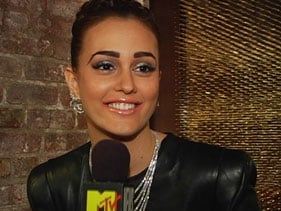 "Gossip Girl" is stepping up its love game tonight with Ed Westwick's Chuck Bass set to mack it with another guy.
Though there's no word on how much he'll like it, onscreen girlfriend Leighton Meester divulges that her character, Blair Waldorf, just may be the mastermind behind the show's much-hyped gay kiss.
"It's not tied into a threesome. We're all in college now, so we can definitely push the limit with the sexuality, which is fine by me," Meester said. "I sort of make the kiss happen."
As if the show's latest steamy storylines weren't attention-grabbing enough, Lady Gaga will also be making an appearance later this season.
"She makes a cameo performance, and we talk about her for awhile," Meester said. "We all have a storyline where we put on a cabaret with her songs."
"Gossip Girl" airs Mondays at 9 p.m. on The CW.
Tags:
Cobra Starship
,
Lady GaGa
,
Leighton Meester