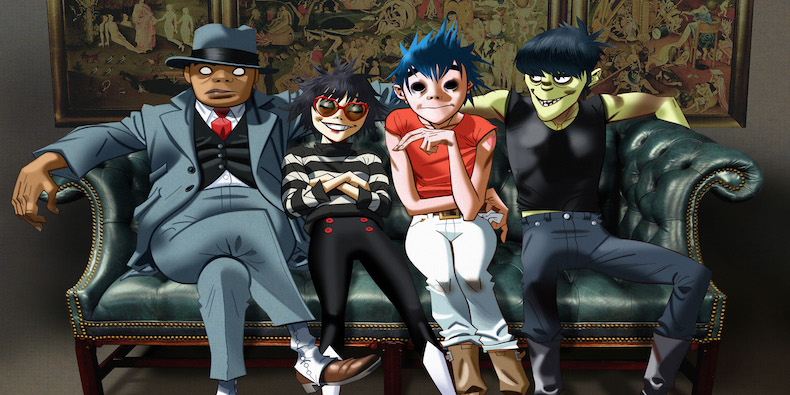 This might not be an Inbox Jukebox selection, but it was in our inbox, and it will be on repeat all day. After all, Gorillaz will be performing their new album live in full tonight in London. Notice our restraint in not shouting that, we'll just repeat it again: Gorillaz will be performing their new album Humanz tonight, live, in full, in London.
Damon Albarn and Jamie Hewlett have also released a four song sampler—featured in the tripped out short film Saturnz Barz (Spirit House). You can watch that below in 360 or standard, and you can hear the songs pretty much everywhere. Oh okay, fine, we'll add links to those too.
As if Gorillaz weren't already sending us into a frenzy of happy bounces and shouts of "All my life!" they've also announced the 14 track line-up for Humanz, a Special Edition with 5 more songs, and a Super Deluxe Vinyl Box Set with—brace yourselves—all 14 tracks "presented across individual pieces of 12″ coloured vinyl (each one a different colour), packaged in individually art-worked sleeves." There's also a Deluxe Vinyl + Art Book option.
Not that any of those are optional for…um, some people…because, you know, um, spending (hold on while we launch our calculator app)…$507.91 on a single album is perfectly normal. And we're glad Gorillaz is letting us be perfectly normal with them once again—just like the sub-culture art fiends we are.

Tracklist:
01 "Intro: I Switched My Robot Off"
02 "Ascension" (Feat. Vince Staples)
03 "Strobelite" (Feat. Peven Everett)
04 "Saturnz Barz" (Feat. Popcaan)
05 "Momentz" (Feat. De La Soul)
06 "Interlude: The Non-conformist Oath"
07 "Submission" (Feat. Danny Brown & Kelela)
08 "Charger" (Feat. Grace Jones)
09 "Interlude: Elevator Going Up"
10 "Andromeda" (Feat. D.R.A.M.)
11 "Busted And Blue"
12 "Interlude: Talk Radio"
13 "Carnival" (Feat. Anthony Hamilton)
14 "Let Me Out" (Feat. Mavis Staples & Pusha T)
15 "Interlude: Penthouse"
16 "Sex Murder Party" (Feat. Jamie Principle & Zebra Katz)
17 "She's My Collar" (Feat. Kali Uchis)
18 "Interlude: The Elephant"
19 "Hallelujah Money" (Feat. Benjamin Clementine)
20 "We Got The Power" (Feat. Jehnny Beth)
Deluxe Tracks:
21 "The Apprentice" (Feat. Rag'n' Bone Man, Zebra Katz, and RAY BLK)
22 "Halfway To The Halfway House" (Feat. Peven Everett)
23 "Out Of Body" (Feat. Kilo Kish, Zebra Katz, and Imani Vonshà)
24 "Ticker Tape" (Feat. Carly Simon and Kali Uchis)
25 "Circle Of Friendz" (Feat. Brandon Markell Holmes)
Get into Humanz on 04.28
"Saturnz Barz" (Spirit House) in 360
—
"Saturnz Barz" (Spirit House)
Tags:
Gorillaz
,
Humanz
,
new music