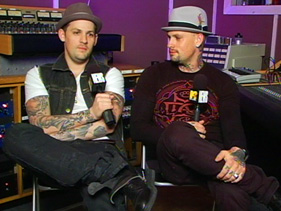 Sometimes giving up and starting over is the only option.
For the last 18 months Good Charlotte has been busy in the studio prepping Cardiology,  the band's fifth studio album.  The band wrote and recorded an entire album's worth of material, then, unhappy with the results, decided to scrap the project entirely and start over again from scratch with a new producer at the helm. Needless to say, it's been a bit of a struggle. The kind of thing that adds years – and, in this case, family members – to people's lives.
"I started this record with one child; now I have two," said frontman Joel Madden smiling, who got engaged to longtime girlfriend Nicole Richie in February. "And now, the record is like my third child."
The process began with producer Howard Benson, famous for his work with acts like My Chemical Romance and the All-American Rejects. But the Madden brothers weren't thinking about his pedigree when they listened to some of Benson's mixes.
"We pretty much finished the record with him," guitarist Benji Madden said. "And we had to go to Australia to do some TV stuff, and we came back, sat down and listened to a few rough mixes and … it just didn't have that vibe. I didn't connect with it the way I needed to. When we wrote the songs, I connected to them. They were everything I envisioned them being. It was just that Benson didn't want to try anything. He just didn't get it. So I was like, 'We need to throw it away. I never want to hear it again.' And I never listened to it again. I have the hard drive at my house, and I'm going to destroy it. We don't have any need for that record."
Dejected, the Maddens met with longtime friend and frequent collaborator Don Gilmore, hoping to get some advice about how to resurrect the project. Instead, Gilmore ended up producing the new sessions, and the difference was startling.
"Don said, 'Maybe we should go up to Vancouver.' That's where we did our last record, and so we went up there, and worked with him, and the magic – exactly what I was looking for – happened," Benji explained. "You could feel it. The thing I was really, really going for on this record was there. And Don knew it too. We both wanted to make something special. When someone puts their headphones on and listens to this record, I want them to feel connected to us, and I want them to feel like they know us."
That's the reason the album (which is tentatively due in August/September) is called Cardiology: It comes from the heart. And though making it was a struggle, the entire band emerged from the process stronger, closer and – perhaps most important of all – reinvigorated.
"We were like, 'You know, we really want to dig deep on this record, just kind of reconnect with the fans that have been with us the whole way.' Just kind of let them back in. And that's what we tried to do," Benji Madden said. "And we started writing this record, and it really started to mean a lot to me, and I kind of fell in love with being in a band all over again, fell in love with making music all over again, just got real passionate about it."
The brothers say that the result is an album that's an unabashed ode to the pop-punk acts the band grew up listening to. The kind of stuff they've always wanted to play and finally feel liberated enough to do so.
"There's a song that I wrote for my kids that is personally my favorite, 'Harlowe's Song.' But there's a song I really love called 'Crash,' and I don't know why, but I really love it," Joel said. "I think it will be great live. There's an element of pop-punk on this record that's kind of returned a bit."
"One of my favorites is a song called 'Silver Screen Romance,' and it's totally the Good Charlotte return to pop-punk," Benji Madden added. "I don't think we could've written this song a few years ago, but it's a feel-good song. It just sounds like classic Good Charlotte to me."
Tags:
Good Charlotte