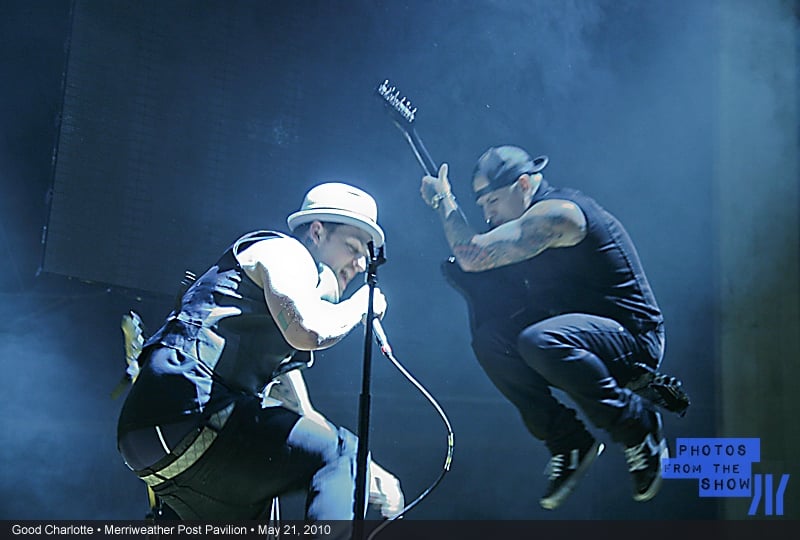 HERSHEY, Pa. – By now you're probably aware that The Bamboozle Roadshow — the rambling rock circus featuring Good Charlotte, All Time Low, Simple Plan, Third Eye Blind and 3OH!3, among others – is basically  one giant "bro down."
It seems that everyone associated with the festival tour enjoys the company of their fellow musicians, and it doesn't matter if it's the lowliest of opening acts or the headiest of headliners, they all hang out together, for reasons that seem to extend beyond friendship and into the realm of survival.
"Everyone's been hanging out every night," said Joel Madden, lead singer of Good Charlotte. "Everyone's helped each other out because there hasn't been any food. The bands will all buy food and cook out, or, if we go shopping one night, the other bands will come on our bus. It's like a big, family vibe."
Going out together is also part of the fun.
"Me and Benji have had a lot of DJ gigs in random cities, like once or twice a week, and we'll bring the entire tour with us," the Good Charlotte frontman said. "And we're talking like 20 guys that are all 22 or 23 who all want to rage. So we'll go and set it up and then they'll have the whole club at their disposal. They party their faces off."
All that camaraderie also extends to the stage, too. Take, for example, the events that took place earlier this week during a Roadshow stop in Pittsburgh. Heavy rain and strong winds forced the show to nearly be canceled.
"The other night in Pittsburgh, we had walked up to the stage, we were about to go on stage and it started pouring," twin brother Benji Madden said. "The rain was blowing the screens almost off the stage, so they had to shut the stage down, tie everything down and wait for the rain to stop. The show got canceled, pretty much." Benji Madden said.
All was not lost, however.
"The bands decided to play acoustic instead," Benji Madden added. "All the bands went up on stage and played 4-5 songs each, and then played some together. Most of the crowd stayed, and it turned out to be my favorite show of the tour. It felt really special, like one of those rock 'n' roll moments nobody will forget."
Tags:
3OH!3
,
All Time Low
,
Good Charlotte
,
Simple Plan
,
The Bamboozle Roadshow
,
Third Eye Blind