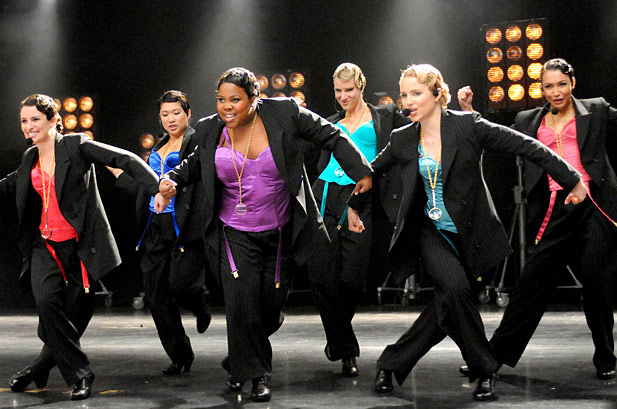 LOS ANGELES – It's all about The Power of Madonna this week on the Billboard 200 albums chart where the soundtrack from last week's Madonna-themed episode of Fox TV's "Glee" debuts at No. 1 with 98,000 copies sold according to Nielsen SoundScan.
The week's second-highest debut is also a soundtrack: AC/DC's Iron Man 2 at No. 4 with 76,000 sold. Thus, with soundtracks debuting at Nos. 1 and 4, it marks the first time in the Billboard 200 chart's nearly 54-year history that two soundtracks have simultaneously debuted in the top five.
A whopping 75 percent of "Madonna's" first-week sales came from download retailers. The arrival is reminiscent of when Ke$ha's Animal wowed the digital world back in January when a then-record 76 percent of its first week sales were downloads.
The Power of Madonna is the third album release from "Glee," but the first to reach No. 1. Glee Season One: The Music Volume 1 peaked at No. 4 last November with a 113,000 debut week and then Volume 2 bowed at No. 3 the following month with 173,000 in its premiere frame. Combined, the first two volumes have now sold 1.4 million.
Unlike the first two "Glee" albums — which collected musical highlights from throughout the first half of the show's season — The Power of Madonna focuses on only one episode. It contains the seven numbers performed by the cast in the episode including "Vogue" and "Like a Prayer." (The iTunes edition comes with one bonus track not sung in the episode: "Burning Up.") The Power of Madonna is the first TV soundtrack to be No. 1 since Walt Disney's High School Musical 2 spent four weeks atop the tally in September of 2007. If we back out the house of Mouse, the last non-Disney TV soundtrack to reign at No. 1 before "Glee" was the "Miami Vice" soundtrack in late 1985 and early 1986. It spent 11 non-consecutive weeks in the penthouse.
The Power of Madonna is also the first No. 1 album consisting totally of covers of one act's songs since the all-ABBA "Mamma Mia!" soundtrack reigned for a week in August of 2008.
Trailing the "Glee" kids is Lady Antebellum's Need You Now, moving up one spot to No. 2. It posts a 27-percent increase, selling 83,000 copies (up from 65,000 last week). That's a sales gain no doubt generated by the act's five wins on the April 18 Academy of Country Music Awards show.
Justin Bieber's My World 2.0 falls from No. 1 to No. 3 this week with 81,000 — down 12%.
AC/DC's soundtrack to the upcoming Iron Man 2 film arrives at No. 4 with 76,000. The 15-song album — the band's eighth top 10 set — is made up of previously released AC/DC tunes and includes such well-known tracks as "Highway to Hell," "Back in Black," and its lead single "Shoot to Thrill." Usher's Raymond v Raymond slips one rung to No. 5 with 52,000 and the Now 33 compilation holds at No. 6 with 37,000.
The final debut in the top 10 this week comes from chart veteran Jimmy Buffett at No. 7 with the live set Encores. The double-length album is available exclusively through Wal-Mart, Buffett's Margaritaville retail stores and its Web site. Encores is Buffett's ninth top 10 album and his first since 2006's Take the Weather With You debuted and peaked at No. 4.
Bieber's first My World album skips up two positions with a 3-percent gain to No. 8 with 31,000. Zac Brown Band's The Foundation — another album that profits from the ACM Awards — rises to a new chart high of No. 9 with 29,000. Lady Gaga's The Fame drops three spots to No. 10 with 28,000.
Overall album sales in this past chart week totaled 5.54 million units, up 3 percent compared to the sum last week (5.46 million) and down 10 percent compared to the comparable sales week of 2009 (6.17 million). Year to date album sales stand at 98.21 million, down 10 percent compared to the same total at this point last year (10.94 million).
Tags:
AC/DC
,
Glee
,
Jimmy Buffett
,
Justin Bieber
,
Lady Antebellum
,
Lady GaGa
,
Madonna
,
Usher
,
Zac Brown Band