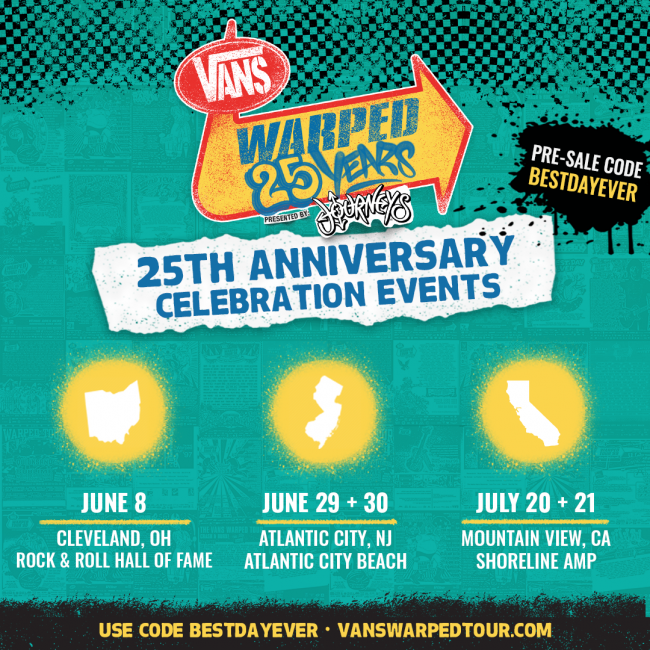 Are you ready to rock one last time? The Vans Warped Tour has an exciting summer planned to celebrate their 25th anniversary + you're all invited – you've just gotta grab your tickets.
VWT will kick it in New Jersey, jam in California, and rock out in Ohio and you definitely don't want to miss a minute of the action. With code BESTDAYEVER, you can secure your spot on the guest list with presale tickets, available for purchase here.
Lineups are set to be announced on March 1st, but with a birthday like this do you even need to know who's playing to know the shows will be epic?
Presale tickets are available now and general on sale begins at 10am ET on March 1st. Find more info below + let us know when you've gotten your ticket on Twitter.
—
—
Vans Warped Tour 25th Anniversary Dates:
6.08 – CLEVELAND, OH @ ROCK & ROLL HALL OF FAME
The Cleveland show will be a little different from the Warped Tour you might be expecting. This event will mark the opening of the Forever Warped exhibit at the Rock & Roll Hall of Fame. Everything from your favorite bands' instruments (Fall Out Boy, Joan Jett, etc) to artifacts from the very first Vans Warped Tour will be on display, and it'll all kick off with a Warped worthy concert on June 8th.
6.29 + 6.30 – ATLANTIC CITY, NJ @ ATLANTIC CITY BEACH
New Jersey knows what Warped Tour is about—summertime and punk rock. Over the course of two days, the Warped crew will be delivering all the rock and roll fun you can handle. Skateboarding, motocross, Warped art, 50+ bands, and of course the picture perfect backdrop of sun + sand will help you make your best summer memories yet.
7.20 + 7.21 – MOUNTAIN VIEW, CA @ SHORELINE AMPHITHEATRE
California is home to Warped Tour, so be prepared for a pretty epic experience. Shoreline Amphitheatre hosted a sold out show during last year's final cross country run and we're sure the Bay Area will bring just as much enthusiasm to this summer's two day, 50+ band extravaganza.