Fun, a strong word that can imply many meanings to a band name, is exactly what it sounds like when seeing Fun. live. The band Fun., has embarked on a nationwide tour with supporting act, Miniature Tigers, playing to sold out crowds every night.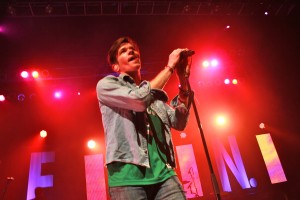 The band stopped in Boston this past Friday drawing a larger line on "Yawkey Way" than the Red Sox game that same night.   One fan stated that she had been in line since 9 a.m., and had her friend hold the spot so that she could see the acoustic performance at Newbury Comics that afternoon. The phrase "we are young" embodied the audience as they anxiously waited for the band screaming the word "fun" simultaneously and waiving their hands as if they were at a Jay-Z concert. The lights faded to black and a moment later the backdrop lit up the name Fun., and the band took to the stage.
Nate Ruess, lead sing of the band, ran on stage wearing a Boston Celtic's Rajon Rondo basketball jersey and quickly pumped up the energy of the already exuberant crowd. They played songs from their albums Some Nights and Aim and Ignite and had all 2,500 people singing and dancing along. The hour plus set did not loose any momentum and even showcased guitarist Jack Antonoff drumming along with Will Noon.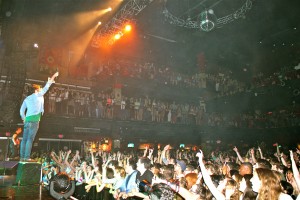 The tempo slowed down with the song "Carry On" which had a pair of girls in the front row crying with a joyful emotion. The venue then exploded with cheering as everyone sang along to the band's cover of, "You Can't Always Get What You Want", by The Rolling Stones. The band played the Billboard chart-topper, "We are Young", and had the floor shaking and security holding their ears. Not one person left after the song was finished, and the crowd cheered for an encore while the lights were dimmed low. Fun., hopped back on stage one more time for the night leaving a memory for both old and new Fun. fans.
The band has had a lot of success throughout this past year, from playing on David Letterman, having there song featured in a Super Bowl commercial, as well as having "We are Young" covered on the hit show Glee. The band can be seen on tour nationwide throughout the end of summer. For more information, check out, OurNameisFun.com.
Tags:
Fun.