It's that time of the year, when snow flies, cities are covered in Christmas cheer, and music festivals are nothing but a distant memory of summer–but wait, what's this? A saving grace to our poor mosh pit free hearts? Four Chords Music Festival is set and ready to rock your minds on December 13th, so you can log one music fueled party into your 2015 journal. Equip your tires with snow chains, and hit the road to Pittsburgh for sets from Yellowcard, Hit The Lights, Patent Pending and more. Need more than more? Here are four reasons you need to be seen at the Four Chords Music Festival. We'll see you out there!
—
Because All That Dancing Will Keep You Warm Through The Holidays
Pit In Pittsburgh to keep warm this winter. Pop Punk acts like YellowCard and Hit The Lights are sure to bring you warmth and nostalgia at this years Four Chord Music Festival. Not to mention Anti-Flag and Citizen who are sure to get your blood boiling with their scream worthy lyrics and relentless instrumentals.   (Hannah Hines)
Because If The Best Acts of the Vans Warped Tour Got Together, They'd Make This Line Up
Relive the golden age of pop punk with Hit The Lights and Yellowcard, then catch up on today's emo rock with Citizen before diving into socio-political rights with Anti-Flag. Along with that, you can get lost in the folksy tunes Aaron West & The Roaring Twenties will be cranking out, and get real silly with Patent Pending. Enjoy all your favorite types of sounds in one place to end this year on the highest note possible. (Emillie Marvel)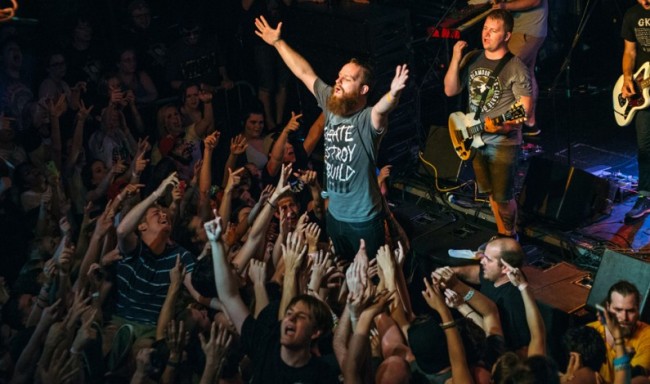 Because We Need Winter Music Festivals
One of the best parts of the summer for a music fan is all-day festivals: Warped, Riot Fest, Skate & Surf, etc. There are few things in life more enjoyable than spending a full day immersed in music, no matter what time of year, so why don't we have more winter festivals? Sure, the weather outside might be frightful, but at the Four Chord Music Festival, you'll be nice and cozy inside the Xtaza club. Plus you won't have to worry about nursing a sunburn or being covered in mud, even if you might have to walk home through the snow! (Sam Devotta)
Because Music is The Gift that Keeps On Giving
Winter music festivals may be far and few between, but music itself is an integral part of the holiday spirit. It's about community and getting together. It's about loving the people you're with and enjoying the moment. It's truly a reminder of the holiday spirit that December and winter brings. With a festival like this, you're just upping your holiday giving cred, and think about all the pop-punk Christmas song covers your bound to get? Who doesn't wanna see a pop-punk rendition of "Merry Christmas, Happy Holidays"?! Also, it might double as an awesome gift for a loved one. What's better than giving the gift of music around this time of year?  (Shelby Chargin)
—
Get tickets to the festival here!
Tags:
four chords music festival