Grand Rapids is an emerging city, thriving in the artists, innovators and visionaries dominating its population. The city has grown exponentially in the last handful of years, but has managed to maintain its tidy, personable, and nature-oriented approach. Even with a growing population and worldwide awareness, the city remains one of America's best kept secrets, with a substantial supply of fascinating qualities and undeniable liveliness made even more lovable by a low population and "hometown" feel. However, one characteristic trait of the 616 has gone unnoticed for far too long: a music scene that's too epic to stay under wraps.
The Intersection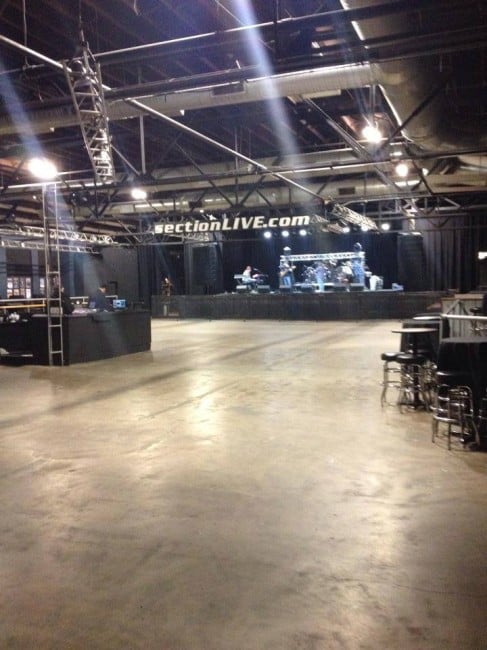 The first thing you'll notice about The Intersection is the building itself. The venue has a magnificent setup with a roomy floor plan making for comfortable crowds, where you only have to share your neighbors' sweat when you dive headfirst into the pit. A bar takes its place along the back wall for those who are thirsty, but the focus of the venue strays far from alcohol–a rarity in and of itself. Two raised platforms hold chairs and tables for reservation, if you like to enjoy your concerts in a stationary position. A barricade is set up in a position so you don't feel miles away from your favorite band, but also keeps performing members in a safe position. Massive floor-to-ceiling curtains separate stage and backstage, and after slipping through them you'll arrive in a spacious set up area; the set of stairs in the corner takes you into a hall of green rooms, which are decorated with music posters, equipped with mirrors, coolers, and couches, and even sport a personal pop machine (which may, or may not, be my favorite aspect of backstage).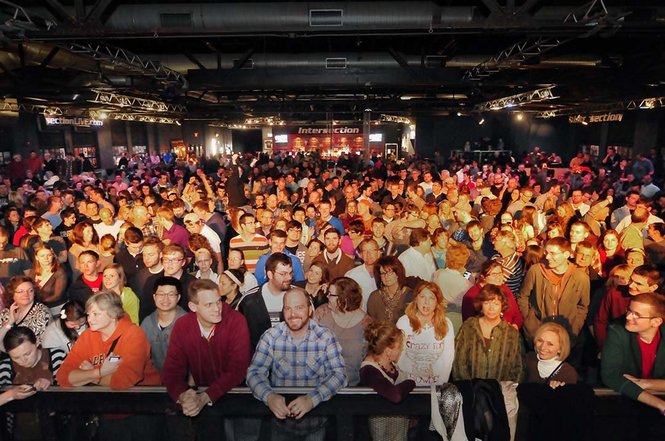 (Source: M Live) You'll also notice the most rare trait among venues: cleanliness. It even smells good. It's not uncommon for a venue's sanitary efforts to be equivalent to that of a condemned building, making The Intersection's tidiness a very pleasant bonus. The next thing you'll notice is the always helpful, always friendly staff. Displaying these qualities to paying customers might be protocol, but take my word when I tell you the kindness extends far past there. All those involved with the venue are regarded with the same amount of respect, from the street team to the interns to the employees. The security follows the same suit. They do a damn good job of keeping things…well, secure. Their no-games outlook on crowd behavior might be a little intimidating if they didn't also uphold an amicable attitude, but there's not a moment you feel unsafe when enjoying live music at The Intersection.
(Source: The Stache Twitter)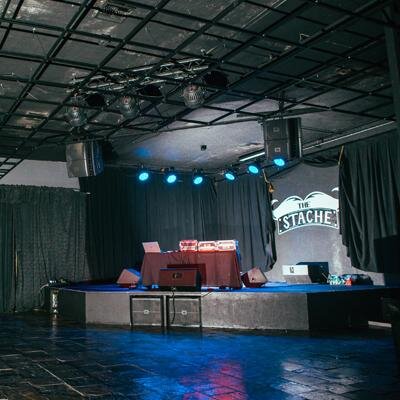 Not only is the atmosphere all you could ever want from a venue, a diverse lineup keeps you from ever getting bored with the schedule. National tours stop by all the time, with acts like All Time Low, Grieves, or Mushroomhead on the bill. Of course, there are also plenty of local bands playing at any given time; Midwest Skies, The Outer Vibe, and local legends Pop Evil have all made appearances just within the year 2014. If there's one thing to be sure of, this is a venue you need to visit in your lifetime. If you live in GR, you have a remarkably-spirited venue right in your backyard; if not, you might just have to take a road trip to experience it. Oh, and they also have really kick-ass t-shirts.
Vertigo Records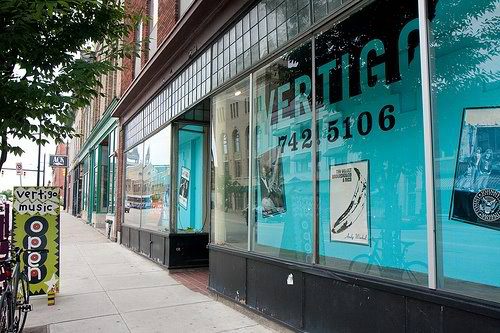 Vertigo Records is the most successful record store in all of Grand Rapids. This is where you'll want to head the next time you're jonesin' for a vinyl fix. Located in a particularly artsy part of town, the trip to get there is almost as fun as arriving. Peppering the red brick street to the store are artistic masterpieces, plastered onto and around buildings every couple of blocks. Even with all this distracting you, the store itself is impossible to miss with a colorful, eye-catching sandwich board marking its location.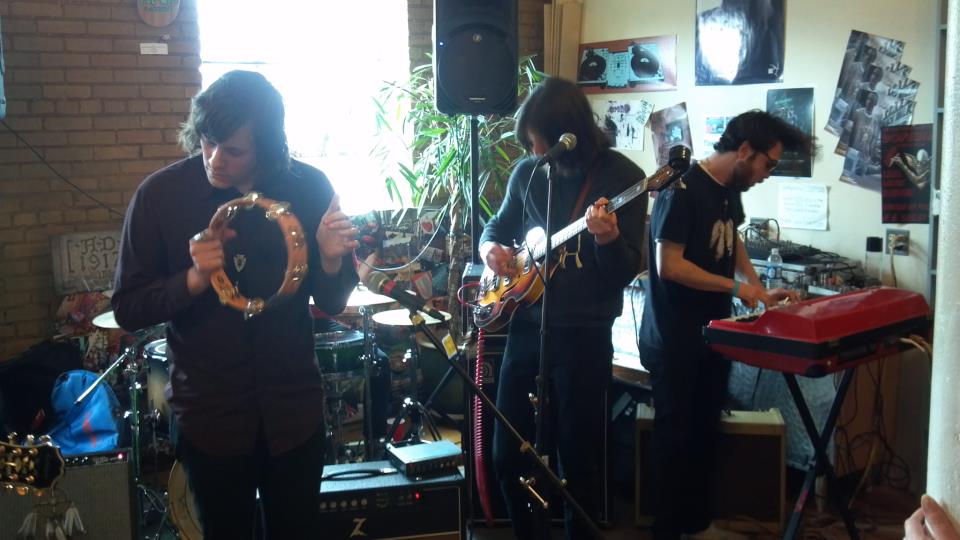 Once you're inside, you'll feel like the door was a time machine that transported you back to the 90's, due in part to the grungy feel given off by the brick walls that make up some of its four corners. Leave the outside world at the door, because you can walk in and feel completely emerged in all the great music the store has to offer. A relaxed staff and always rotating catalog make it a favorite hang out destination for all the music lovers in West Michigan (and there are a lot of us). On top of awesome recorded music, you'll also find in-store sessions with bands like Weird Signals and local DJs alike–on occasion–which makes it that much better of a place to frequent.  All this is why GR ♥s Vertigo Records.
Rosa Parks Circle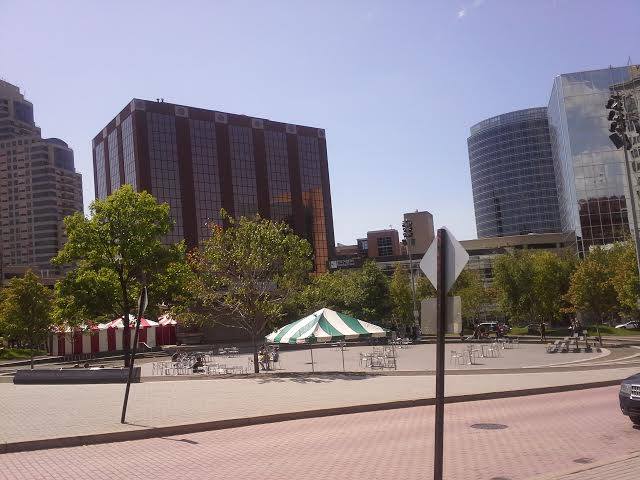 Day or night, you can head out to Rosa Parks Circle to find a good time, and most of those good times involve music. The host of a myriad of events, there are few dull days around the circle. Whether put on by local bars or the annual Polish festival, concerts are set up almost daily. Folk and indie bands go over extremely well at the circle, but in Grand Rapids you should never expect tofind the same variety. Rock bands, pop bands, Latin bands… they've all played the incomparable Rosa Parks Circle to an audience of hundreds (plus anyone out roaming the city). Things can get busy, but with bleachers built into the structure it's never hard to find a seat. Centered right in the heart of downtown, there's plenty of great architecture and cool scenery to catch your eye during set changes. And if you get hungry, you're only a hop, skip, and a jump away from some cool restaurants and hot food carts.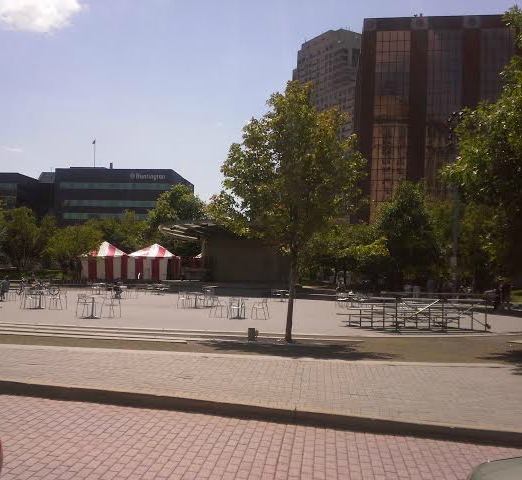 It's the ideal concert space, and one you can enjoy all summer, fall and spring long. You won't even have to miss hanging out there during the bitter Michigan winter, as it becomes a pretty awesome ice rink during our snowy months. Plus, every weeknight the center offers other types of fun events, like swing dancing and vendors for all sorts of activities–most of which have to do with art.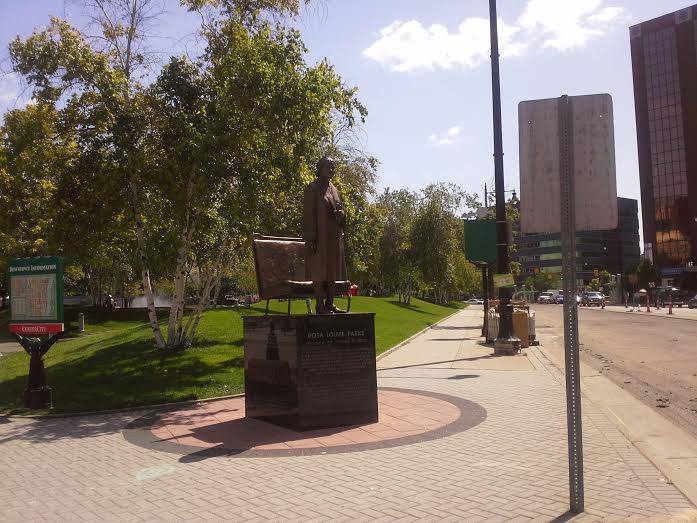 Of course, even a place like this must take a break from all these events some time. Those are the days where you can find a spot in the circle and let your own music collection take the wheel through your headphones. And when things get too hot, you can always find a seat next to the fountain that'll provide you with a steady mist of cool water. There's no better place to relax and enjoy warm weather with good friends than Rosa Parks Circle.
 –
The best part about all three of these dynamite music locations? They're all located in downtown GR, making your trip easy (and completely car-free). Show up at Rosa Parks Circle for some daytime activities, then drop by Vertigo Records to load up on some much needed music merchandise. Finally, roll into The Intersection to catch one of the best shows of your life. Ah, life in Grand Rapids.
Tags:
All Time Low
,
For The Record
,
Grieves
,
Midwest Skies
,
Mushroomhead