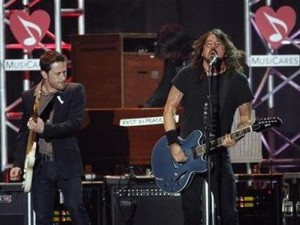 LOS ANGELES (Billboard) — The Foo Fighters finally got their first No. 1 album in the United States on Wednesday as their eighth studio release led a field that also included strong debuts from Alison Krauss and Paul Simon.
The band sold 235,000 copies of "Wasting Light" during the week ended Sunday, according to tracking firm Nielsen SoundScan. It ranks as their second-largest sales week, trumped only by the No. 2 launch of "In Your Honor" in 2005, which began with 311,000. Their last studio album, "Echoes, Silence, Patience & Grace," debuted at No. 3 in 2007 with 168,000.
After four nonconsecutive weeks at No. 1, Adele's "21" slipped to No. 2 with 93,000 copies. It was the same story in the U.K., where the Foo Fighters ended her 11-week reign.
Coming in at No. 3 in the United States was Alison Krauss & Union Station's "Paper Airplane," selling 83,000 copies. Krauss has gone higher once before (and sold more), with Robert Plant on their Grammy-winning collaboration "Raising Sand" (No. 2 in 2007 off a 112,000 bow). However, "Paper" posts Krauss' highest chart rank on her own (or with Union Station) and her second-biggest sales week. Krauss' best sales week, not counting the Plant collaboration, came when "Lonely Runs Both Ways" shifted 86,000 during Christmas week back in 2004.
Right behind her was Paul Simon, with a career-high debut at No. 4 with "So Beautiful or So What" (68,000). It's the singer/songwriter's best sales week since SoundScan began tracking data in 1991 and his highest rank on the Billboard 200 since "Rhythm of the Saints" peaked at No. 4 in 1990.
Latin rock band Mana started at No. 5 with "Drama y Luz" (47,000), a sharp drop from their previous studio album, 2006's "Amar Es Combatir" (No. 4, 87,000 units).
As for the rest of the top 10, Britney Spears' "Femme Fatale" fell four to No. 6 (43,000), the "Songs for Japan" charity compilation held at No. 7 (37,000), Wiz Khalifa's "Rolling Papers" fell three to No. 8 (37,000), Chris Brown's "F.A.M.E." also dropped three, to No. 9 (35,000), and Mumford & Sons' "Sigh No More" dropped two to No. 10 (35,000).
Right outside the top 10 were three new arrivals: British singer Jessie J's debut set, "Who You Are" at No. 11 (34,000); TV on the Radio's "Nine Types of Light" at No. 12 (32,000); and Atmosphere's "Family Sign" launches at No. 13 (28,000).
Overall album sales totaled 6.3 million units, up 8% compared with the previous week and up 16% compared with the comparable sales week of 2010. Year-to-date album sales stand at 90 million, down 3% compared with the same total at this point last year.
Tags:
Foo Fighters