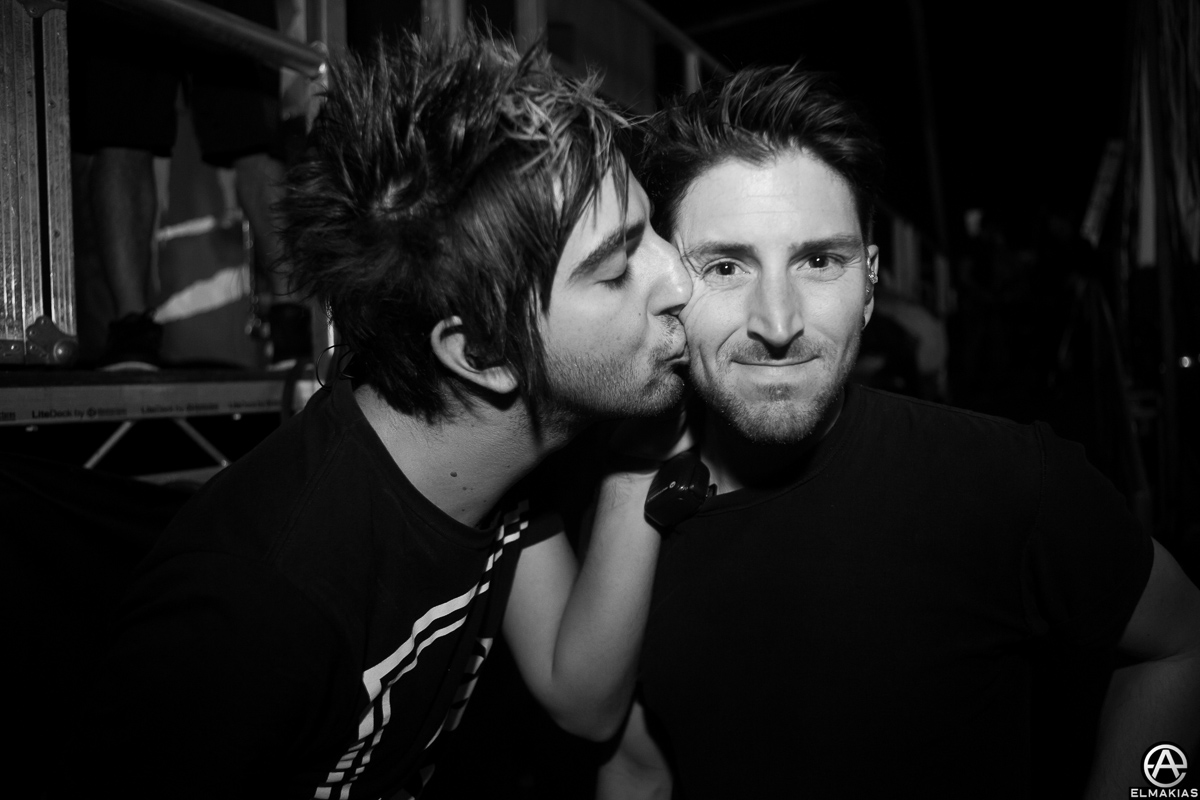 Mike "Fish" Fishkin, of idobi Radio's Gone Fishkin, talks Warped Tour with former All Time Low tour manager and new idobi hire, Matthew Flyzik. Flyzik elaborates on everything from advice for bands on their first Warped summer to memories of the tour growing up.
When was your first Warped Tour run?
I first did Warped Tour the summer of 2005. I am proud to say, in true punk rock/DIY fashion, I snuck my way onto the tour for 30 days. I sold other bands' CD's to pay for my bunk spot, and snuck in using old wristbands. Or got lucky and just walked in.
What was going through your head, hitching onto such a legendary tour?
I'd been attending Warped for years and was just so happy to be a part of it. I knew I didn't really belong on the tour so I didn't bother anyone or try to make friends with the bands. I was happy to see the amazing lineups every day, and that no one caught on to the fact I was sneaking in day after day.
I'm guessing you didn't foresee becoming part of, arguably, the biggest band on the tour within five years?
Not at all. The best thing about Warped Tour is it really makes you earn your stripes. The first time I actually did the tour with All Time Low, we had such a rough summer. But enjoyed every second of it. I'll never forget the first day of the tour. We showed up for the rehearsal day, where you meet the higher ups, get credentials, meet your stage manager, then store your gear at your stage for the next day. We were so excited when we went to sleep that night.
I wake up the next morning and wait outside the front office for the schedule only to find out All Time Low was not only opening but opening a completely different stage. I had to sprint back to the bus, wake everyone up, rush back, push all their equipment across a dusty racetrack to the other end of the festival site, set up, line check, and somehow promote their set to the line–all in a matter of 90 minutes. We toughed it up and just accepted the fact this was Warped Tour.
If you'd told me then that in 2013 I would stroll into the front office, give everyone a hug, and get an All Access Laminate, I would've told you to stop doing so many drugs.
What was the most surreal moment you had while doing one of your many summers on Warped?
The last time we [ATL] did the tour was 2012. This was our 4th time. Our first year was rough. We were constantly changing stages, had to push our gear through fields twice a day–everyday, played early, and spent anytime not on stage hustling merch and promoting our sets. It was tough, but we not only did it, we never complained. Over the years the tour got much easier and we became friends with all the bands, the people in the office who run the tour, and the stage managers. Eventually everyone at Warped became a second family to us.
So much so, in 2013, one of the wonderful ladies who runs the tour got me into the Boston date. I expected to get a ticket; instead she handed me an All Access laminate with my name and a photo of Mickey Mouse on the back. It really meant the world to me and made me appreciate all the hustling I'd done for 8 years on the tour…11 years if you count the ones I attended prior to All Time Low.
This year is Warped Tour's 20th Anniversary. What bands that got their start on Warped would you like to see play dates?
The first year we [ATL] did Warped, Pennywise was on the tour and would close most nights. I would make a point to be in the crowd or on stage whenever they closed.
How much does hustling merch and promoting your band matter on a tour like Warped?
It's different doing Warped once and doing it five times. If you're in a band and get the chance to do the tour, you better spend every waking minute of the day promoting. There's so much competition to get noticed. Too many bands come out and spend the day drinking in the sun. They play their set and call it a day. There are 20,000 people out there. Get off your ass and go make some fans. If you can send one person who didn't watch your set home with a CD, you're doing it right. Kids come out to see their favorite bands and buy their merch. It's hard for the smaller bands to get noticed. They need to push themselves if they want to have a successful summer.
As a Warped veteran, what's your best advice for a band embarking on their first Warped summer?
Aside from the above, don't complain! We've all pushed our gear through mud and rain. We've all bounced from stage to stage. We all stand in line for 45 minutes to eat lunch and dinner. No one wants to hear about how hard the tour is because we've all done it. Tough it up, stop complaining, and make the most of the summer. Look up all the previous artists and remember that they had the same struggles (if not worse). Eminem, Katy Perry, Blink 182, Fall Out Boy, My Chemical Romance, Billy Idol, etc. etc. etc. all went through what you're dealing with so shut the fuck up, smile, and be glad that your band is lucky enough to be a part of 20 years of Warped!
Tags:
All Time Low
,
Matt Flyzik