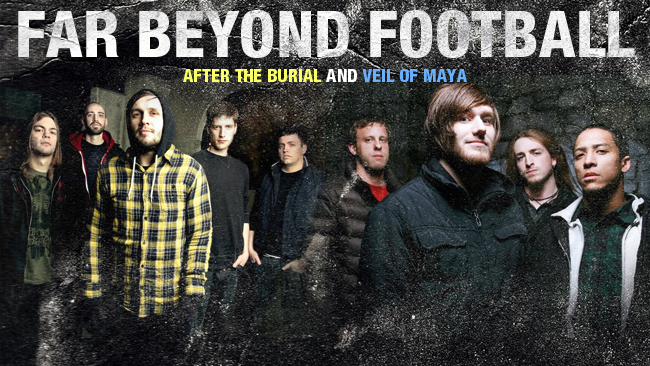 We are bringing you our WEEK 7 installment of FAR BEYOND FOOTBALL from the Western Canada leg of the CRUSH EM' ALL TOUR.   Tomorrow will be our final show in Canada for the run, and we are extremely happy about how all the Canadian shows have been so far.   After our show in Calgary tomorrow, we will be heading back to the United States to finish up the tour with a date in Montana, then heading directly to the midwest for the final leg.   Week 7 has some deep picks that we are "Trusting Our Gut" on, and we hope that you will find these picks helpful.   Some of these players may still be available in your league, and if so, we suggest you swoop them up ASAP.   Here's our WEEK 7 rundown.
-Justin Lowe – After The Burial
-Brandon Butler – Veil Of Maya
WEEK 7
 QB START:
 -Matt Cassel KC @ OAK This is looking like another opportunity for Matt Cassel to put up the kind of numbers he did against Indianapolis in week 5.   It's hard not to pay attention to the fact his favorite target Dwayne Bowe is producing big each week, and we think this week will be no exception.   The Raiders are tied with the Saints in allowing the 4th most fantasy points to opposing quarterbacks.   This should be a big week for Cassel, no question.
-Tony Romo DAL vs. STL We really like the matchup Tony Romo has this week facing the miserable St. Louis Rams.   The Rams will most likely be relying on their running game due to the absence of Sam Bradford this week, and their lack of strength in their receiving core without him at the helm.     The Cowboys should see plenty of possession time here which will allow Tony Romo to completely dominate this week.   The Rams are the 3rd worst in the NFL in fantasy points allowed to opposing quarterbacks.   If you were thinking about benching Romo this week, you may need to ask yourself what the hell you are thinking.
-Colt McCoy CLE vs. SEA McCoy hasn't been phenomenal in any game, but if you are looking for a bye week replacement McCoy's stats aren't too bad, he is a smart player that can spread the ball around the field its hard to predict whom will grab in the TD's, but we can almost guarantee a few will come from McCoy this week against Seattle.
 CHANCE PICK: Matt Hasselbeck (TEN) vs. HOU We are expecting Hasselbeck to come off his bye week ready to go and put up some good numbers against the banged up Houston Texans.   He has put up 200+ passing yards in his last 3 games leading up to the week 6 bye, and this is the kind of consistency we are starting to expect out of him.  
QB SIT:
 -Kevin Kolb ARI vs. PIT Kevin Kolb can't handle "The Steel Curtain"
-Charlie Whitehurst SEA @ CLE He says he's "ready" to man up and fill the shoes of the almighty Tavarus Jackson, which we think is far to daunting of a task to be accomplished, so there is really no hope in starting him against the Browns this week.
-John Beck WAS @ CAR John Beck hasn't had that rush of adrenaline coming out of the tunnel to start a game since he last did that with the Miami Dolphins way back in 2007.   Beck has a lot to prove to many before we see him as a legitimate fantasy starting quarterback in any situation.
 CHANCE SIT: Mark Sanchez (NYJ) vs. SD Mark Sanchez might have a lot to deal with this week while facing the Chargers.   He only threw for 201 yards last week against the dismal Miami Dolphins.   If you have another more consistent option beside Sanchez this week, this may be the time to bench him.
RB START:
 -Rashard Mendenhall (PIT) @ ARI Rashard Mendenhall is coming off a very solid week   against Jacksonville, putting up 146 yards rushing and a TD.   He is facing the same Arizona Cardinals that gave up 3 touchdowns to Adrian Peterson of the Minnesota Vikings week 5 in the first quarter.   We aren't saying that we think Mendenhall is up there with caliber of running back that AP is, but we do consider him an elite running back in the NFL and shouldn't have a problem running all over the Cardinals.
-Ryan Mathews (SD) @ NYJ Ryan Mathews will be a major role in the Chargers offense this week against the Jets.   He is having a great season, and will continue to do so.   If the Chargers want a real edge this week in offense, they will have to dominate the ground game.   The Jets are the 6th worst in the NFL when allowing points to opposing running backs, so this is definitely a team you can run on.
-Maurice Morris (DET) vs. ATL Maurice Morris is most likely the starter in Detroit now.   If you remember late last season, he put together some really great numbers.   We think he will take this opportunity and run with it, literally.   If for some god-forsaken chance he is still available as a free agent in your league, pick him up now and utilize him as much as you can while Best is out with his concussion.
 CHANCE PICK: LaDanian Tomlinson (NYJ) vs. SD L.T. is returning to his old teams stomping grounds for the first time in his time with the Jets.   Rex Ryan announced LT will get the "Ceremonial Start" and take the first run play, look for the Jets to hand off to Shonn Greene more than LT but it wouldn't surprise us if Ryan has a play up his sleeve to give LT a scoring chance against his old team.
RB SIT:
 –ALL COLTS RB CORE Joseph Addai is questionable with a hamstring injury and even if he does play our gut says the colts are going to slowly work him into the offense, this will leave the carries being spread between Addai, Delone Carter, and Donald Brown making them all unreliable in all fantasy formats.
–Knowshon Moreno (DEN) @ MIA NOSHOW Moreno is useless as far as the broncos run game goes, he got lucky with a 28yd receiving TD last week, Willis McGahee took 100% of the carries last week and Moreno seems to have lost his roster spot to McGahee.
-DeAngelo Williams (CAR) vs. WAS Williams was out played plain and simple last week by Jonathan Stewart and is slowly losing carries to him, Williams has not been preforming up to parr considering the amount of money the Panthers just re-signed him for at the beginning of the year.
–CHANCE SIT: Earnest Graham (TB) vs. CHI
WR START:
 -Mohamed Massaquoi (CLE) vs. SEA Mohamed Massaquoi has been a frequent target for McCoy while in the red zone.   Even though his yardage has not been significant, look for McCoy to spread the ball around quite a bit and watch Massaquoi pull in a TD this week against the miserable Seahawks.
-Torrey Smith (BAL) @ JAC Smith had a great game last week and continues to rise as a receiver in the Ravens depth chart, with Lee Evans out and not practicing all week. Drop Evans if you have him Grab Smith if you can get him he should shine on monday night against the Jags.
-Dwayne Bowe (KC) @ OAK Do we really need an explanation here?   Matt Cassel is in a very favorable situation and there is no doubt in our mind he won't be throwing to his favorite target all day.
 -CHANCE PICK: Reggie Wayne (IND) @ NO Wayne has yet to snag a TD this year, but his receptions have slowly been on the rise and now that the Colts QB situation has stabilized with Curtis Painter we guess the Colts will be looking to get their star receiver in the endzone this week.
WR SIT:
 -Early Doucet (ARI) vs. PIT Early Doucet has been producing more and more each week.   However, don't look for him to have a good chance at getting his 2nd TD of the season against Pittsburgh.   He is coming off a solid game of 91 receiving yards against the Vikings in week 5, but that was the Vikings.   This is the Steelers.
-Brandon Lloyd (STL) @ DAL Without Sam Bradford around, hell, even with Sam Bradford around this is not anyone to ever start on your fantasy team.   He will let you down, over and over again.   There is a reason Denver traded him.
-Mike Sims-Walker (JAC) vs. BAL Sims-Walker should know the system in Jacksonville after playing there for years and being gone for a short time, but don't expect him to make any sort of impact immediately especially with Blaine Gabbert at the helm. Sims-Walker did not produce in St. Louis don't expect him to do it in Jacksonville.
 -CHANCE SIT: Sidney Rice (SEA) @ CLE With the messy situation at quarterback in Seattle right now, it's just too uncertain to have any sort of idea of the relationship Charlie Whitehurst has with his receiving core.   This is far to big of a risk to be taken until we see any sort of production out of Whitehurst at QB.
TE START:
 -Owen Daniels (HOU) @ TEN With Andre Johnson injured, Owen Daniels remains the number one target for Matt Schaub.   He should be targeted plenty of times during the game and has a favorable matchup this week.  
-Brandon Pettigrew (DET) vs. ATL Brandon Pettigrew is a big target in the red zone for Stafford.   He has put up TD's in his last two games, and this is the kind of consistency we think you need to pay attention to.   He should definitely be in your lineup this week, no question.
-Kellen Winslow (TB) vs. CHI The Bears are dead last in the league in allowing points to opposing tight ends.   Even though Winslow is not an elite tight end in the league, it's hard not to pay attention to the fact that they are giving up points to that position.   Start him this week and see if he gets the targets from Josh Freeman that Winslow owners have been hoping for all season long.
-CHANCE START: Dallas Clark (IND) @ NO Dallas Clark put up a TD and over 50 yards receiving last week against the Browns.   The Saints aren't the greatest either at withholding fantasy points to opposing tight ends, so look for him to be a red zone target and hopefully have his second consistent game with a TD.
TE BENCH:
 -Marcedes Lewis (JAC) vs. BAL Marcedes Lewis has yet to have a game where he has produced over 40 yards receiving, let along a TD.   The Ravens are the best in the league at stopping tight ends, so Marcedes Lewis is obviously the worst possible play imaginable this week.
-Visanthe Shiancoe (MIN) vs. GB Even though some TE's have found success against the Packers D this year, we don't think Visanthe Shiancoe will fall into that category.   With all of the QB nonsense plus the added drama of a teammate being arrested recently for domestic battery, we think you should just stay away from most of this team unless their initials are A.P.
 K's START:
 -Matt Bryant (ATL) @ DET This will most likely be a high scoring matchup so look for Bryant to have plenty of PA opportunities.   Also, the Falcons have allowed the 7th most fantasy points to opposing kickers this season.
-Billy Cundiff (BAL) @ JAC Billy Cundiff may be a good start just on PA alone, not to mention if he actually gets a chance to kick some field goals.  
-Phil Dawson (CLE) vs. SEA Seattle has allowed the 8th most fantasy points to opposing kickers this season.   We think the Browns will score plenty of points in this game, giving Phil Dawson all sorts of opportunities to score points this week.
K's SIT:
 -Josh Scobee (JAC) vs. BAL We honestly don't feel anyone on the Jaguars aside from MOJO is even worth the consideration of a start, especially when a kicker like Josh Scobee is going up against the odds like this.
-Jay Feely (ARI) vs. PIT Jay Feely has already had some issues this year, and going up a team that does not allow very many points to opposing kickers, will prove very difficult for him to accomplish almost anything against Pittsburgh.
-Ryan Longwell (MIN) vs. GB You can't help but understand the beat down that is about to happen at Mall of America Field on Sunday.   It's hard to imagine starting any Viking, even the kicker, against the Packers.  
DEF START:
 -GREEN BAY PACKERS @ MIN …
-BALTIMORE RAVENS @ JAC …….
-PITTSBURGH STEELERS @ ARI …………let's be honest here, these go without saying.
 CHANCE PICK: DALLAS COWBOYS vs STL If the Cowboys can stop Steven Jackson, they are pretty much good to go.
DEF SIT:
-HOUSTON TEXANS @ TEN
-INDIANAPOLIS COLTS @ NO
-KANSAS CITY CHIEFS @ OAK
Brandon "TRUST YOUR GUT" Pick: Tim Tebow (DEN) @ MIA
Justin "TRUST YOUR GUT" Pick: Dexter McCluster (KC) @ OAK
Tags:
after the burial
,
brandon butler
,
crush'em all tour 2
,
idobi radio
,
justin lowe
,
metalcore
,
rock the walls
,
sumerian records
,
veil of maya