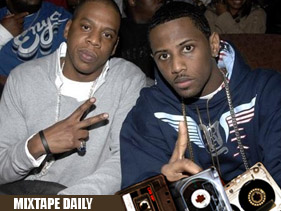 Lenny Santiago has a rich history in the rap game. His hands have been in almost all Roc-A-Fella Records releases (sans Kanye West's), and now he is running things over at Def Jam as vice president of A&R. He signed DJ Khaled and also spearheaded the A&R work on Jadakiss' The Last Kiss and Fabolous' upcoming Loso's Way (due July 28th), and his big fall project is the new one from Ghostface Killah.
But hold up: There's been some controversy over whether Ghostface will really live up to early descriptions that the record that will be an R&B album. Tony Starks giving up rapping for crooning? Santiago says no.
"The new album is called The Wizard of Poetry," Santiago said. "It is an R&B album. When I say that, this is what I mean: Ghostface usually raps over melodic, soulful R&B tracks. This time, we came around and I had him rhyme over the same type of tracks, but we matched him with great R&B stars. John Legend is on there. Raheem DeVaughn is on there. Estelle is on there. Musiq Soulchild is on there. Lloyd is on there. We just paired him up. It's the same Ghost, the same gritty host, the same Ghost that talks to the ladies in that soulful voice along with R&B hooks."
Artists DJ S&S and Nas got a special preview of Loso's Way at a recent dinner party hosted by Fabolous at Philippe Chow's. S&S told some wild stories about Nas bootlegging some of the music from the early Illmatic recording sessions; luckily, Nas has let bygones be bygones.
Esco, who was also in attendance, particularly loved a Fab song called "Pachanga," on which he flips some of Nas' famous lyrics: "Love changes, a thug changes and best friends become strangers / Pachangas!"
Another legend in Fab's corner is Jay-Z. Fab took a record Jay had for American Gangster called "When the Money Goes."
"Me and Jay built a connection through Def Jam," Fab said. "Through working together executive to artist [when Jay was Def Jam president], we built a different relationship as well. Maybe artist to artist we was in a little different space. You didn't know where each other was at. We work well. When I needed help with the [new] album and I was reaching out for people for joints for the album, he was one of the people that was like, 'Hear this.' That's where that joint came from. We got a connection. He's from Brooklyn, I'm from Brooklyn – that's enough of a connection right there."
Look for a Loso's Way movie to come with the album when it drops July 28th.
"We came up with the songs first," Fab said. "I made the songs to the scenario I thought of. Then I wrote a story [for a film]. Even when I was writing the story, I could hear certain songs coming up in those scenarios, in those scenes. That's why it meshed well."