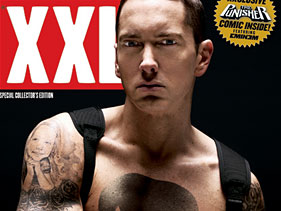 Guess who's back? Eminem appears on the cover of the latest issue of XXL magazine dressed as the Punisher – and, judging from the interview excerpts published on the magazine's Web site, Em kept up with what was going on in hip-hop during his absence.
"I stayed up on the music, and obviously I watch TV and saw what was going on," he said. "And without naming any names, it just felt like hip-hop was going downhill. And it seemed like kinda fast. You know, in them three years, it was like everybody just cares about the hook and the beat; nobody really cares about substance. But with this new T.I. album, with this new Lil Wayne album of recent, it seems like things are looking a lot better now. You can appreciate Lil Wayne using different words to rhyme and actually rhyming words that you know. Or T.I., where you hear sh– and you're like, 'Whoa, ah, I wish I would have thought of that!' You know what I mean? Or you hear all the compound-syllable rhyming and all that. It just seems like now the craft is getting cared about more."
One of the driving forces inspiring Em to cultivate his craft and get his life together was the death his best friend Proof. The charismatic D12 member has been gone for three years now and, as Em told XXL, he has just gotten to the point where he can talk about the tragedy.
"Everyone felt his loss, from his kids, to his wife, to everyone," he explained. "But, for some reason, in hindsight, the way I felt was almost like it happened to just me. … Maybe at the time I was a little bit selfish with it. I think it kind of hit me so hard. It just blindsided me. I just went into such a dark place that, with everything, the drugs, my thoughts, everything. And the more drugs I consumed – and it was all depressants I was taking – the more depressed I became, the more self-loathing I became. … By the way, I'm just now at the point where I'm better talking about it. It took me so long to get out of that place where I couldn't even speak about it without crying or wanting to cry. … Proof was the anchor. He was everything to D12. And not just the group – for me, personally, he was everything."
Along with having to deal with the death of such a beloved confidant, Em also struggled with drug addiction.
"I wasn't ready mentally. I wasn't ready to give up drugs," he explained. "I didn't really think I had a problem. Basically, I went in, and I came out. I relapsed, and I spent the next three years struggling with it. Also, at that time, I felt like I wanted to pull back, because my drug problem had got so bad. I felt like, 'Maybe if I take a break, maybe this will help.' I started to get into the producer role more. … I can still be out-there with my music, like with the "Re-Up" album, but I don't have to be in the spotlight the whole time."
Slim Shady is featured on two XXL covers for the June issue – one of Em with the Punisher logo tattooed on his bare chest, the other with Em in full Punisher costume.
"Relapse" hits stores on May 19.