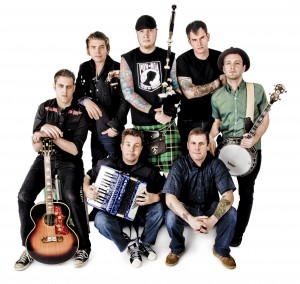 Dropkick Murphys have captured the intensity and camaraderie of their annual Boston hometown St. Patrick's Day shows on Live on Lansdowne, Boston, a CD and DVD set for release March 16, 2010 via the group's own Born & Bred Records.  Live on Lansdowne features 20 fan favorites and was recorded at seven Boston shows in March 2009. It will be available in various formats: CD, double disc digipack with CD and HD DVD, as well as a double gatefold vinyl with bonus CD insert.
Live on Lansdowne marks the critically-acclaimed group's second live release recorded during its annual string of St. Patrick's Day week gigs, following 2002's Live on St. Patrick's Day From Boston, which has sold over 250,000 copies worldwide.   Live on Lansdowne features an entirely different track listing from the previous release and a guest appearance by The Mighty Mighty Bosstones on Dropkick Murphys platinum-selling single "I'm Shipping up to Boston."
This March, the group, known for its complex distillation of classic punk rock, Celtic folk and American rock 'n' roll, returns to Boston's House of Blues for six gigs St. Patrick's Day week. Each year, the band, which has released 10 full-length CDs and sold over 3 million copies worldwide, often breaks house records when these shows go on sale. The St. Patrick's Day shows are the peak of Dropkick Murphys' touring calendar, and fans travel to Boston from around the world for a chance to become part of this unique experience. A very limited number of tickets are still available for the March 15 and 16 shows.
Leading up to the Boston gigs, Dropkick Murphys will embark on a European tour. Kicking off Jan. 22  in Madrid, Spain, the tour will run through a Feb. 4  show in Dusseldorf, Germany. A short U.S. tour will begin Feb. 23 in Norfolk, Va. before concluding with the St. Patrick's Day show. The group will return to the United Kingdom and Ireland for headlining shows from April 12-22.   Support acts for the U.S. tour dates will be announced soon.
Tags:
Dropkick Murphys