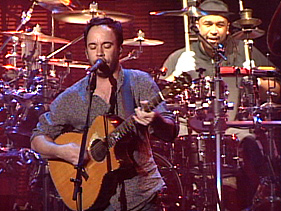 NEW YORK – The Dave Matthews Band kicked off its 2009 summer tour Tuesday night with a sold-out show at Madison Square Garden.
From opening track "Don't Drink the Water" to final encore "Tripping Billies," the crowd exuded an energy and noise level that even Rangers and Knicks fans would have envied.
The set list included longtime DMB favorites such as "Raven," "Granny," "Recently," "Corn Bread," "Two Step" and "#41." Each song started and ended with a roar. When it came time for classics like "Dancing Nancies" and "Ants Marching," it was virtually impossible to tell who sang louder, Matthews or the fans. Throw some amazing Tim Reynolds guitar solos into the already potent mix, and you knew right away the show was heading in the right direction.
Even when the band performed songs off the upcoming album Big Whiskey and the Groogrux King for the first time, the energy never wavered. "Funny the Way It Is," which was made available for free download simultaneously with the start of the tour Tuesday, and new song "Spaceman" were instant hits with the crowd. But the highlight was definitely "Why I Am." Matthews introduced the track by recognizing the loss of saxophonist LeRoi Moore, who died in August from complications stemming from an ATV accident. When the song ended, the audience showed love for LeRoi by loudly chanting his name. The new songs all had a very familiar DMB feel and will surely please new and old fans alike when the album is released on June 2.
Of course, Dave and company had some great surprises in store, including special guest Gregg Allman, who showed up to help play the classic Allman Brothers Band track "Melissa." Surprisingly, the band did not take on any other cover songs on opening night, but that doesn't mean fans won't get their share as the tour continues through the summer.
Even with the obvious burden of mourning Moore's sudden death, the Dave Matthews Band managed to bestow on New York the honor of an epic tour kickoff – nearly three hours long – and helped affirm a lesson their late bandmate recited constantly: In the end, it's always about the music.