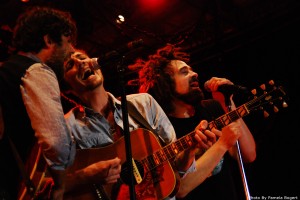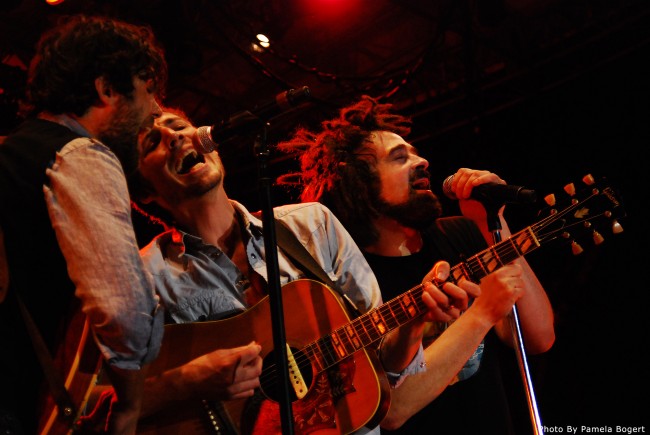 WINDSOR, Ontario – While slot machines rolled and cards flipped to disappointment at Caesar's Palace Casino, the only safe bet Thursday, July 8, was not on the casino floor.
As the old-school circus inspired curtains rose just after 9 p.m, fans were instantly aware that they were in for a concert experience unlike any other, as members of all three acts immediately filled the stage to launch into "Caravan", a Van Morrison cover.
In a style unlike most, the acts rotated on and off the stage, performing a mix of original songs and covers, with one act often joining another on stage to add accompanying vocals or instrumentation.
"I like the set up," said longtime fan Katheryn Starr.   "It was more of a jam session as opposed to a very robotic show."
In the set that lasted just over two hours, Counting Crows played fan favorites "Mr. Jones", "Washington Square" and "Hangin' Round", while songs such as "Round Here" and "A Long December" were noticeably absent.
"Counting Crows shows have always been like that.   You don't always get the song you want," said Counting Crows vocalist Adam Duritz in an interview with idobi.   "We make the set list up in the afternoon, so you never really know what you're gonna get.   Either you came willing to expect the unexpected or, you know, you leave pissed."
For some fans, emotions on this were mixed.
"I wish they would have played more of their own music," said Starr, despite adding "I've seen the Counting Crows three times and this is probably the best show I've seen."
Scattered throughout the evening, cover songs included The Rolling Stones' "Sweet Virginia", Bob Dylan's "Just Like a Woman" and an extended, 15-member-plus rendition of Simon and Garfunkel's "Cecelia", which kicked off the encore with beating drums, the twang of banjo and multiple vocal harmonies.
Midway through the set, Augustana took residency on the stage by keeping pace with the rest of the night.   Launching with "Someone's Baby", a song from their upcoming album, the band also played singles "Dust" and "Boston", as well as a rock-inspired rendition of "Fire".
On their second trip to the stage, the quintet debuted another new song, "Steal Your Heart (Away)", before launching into an intimate, stripped down version of "Sweet and Low", played softly as four of the band's five members contributed vocal harmonies.
Hip-hop act NOTAR, who will release his debut album in the fall under Duritz's label, performed two songs, "Matador" and "Stranger", which featured Duritz on the chorus.
To close the evening, all three acts remained on stage to perform an extended, seemingly improvisational version of the Counting Crows' "Rain King".
"Hey, guys, get up to the microphones," Duritz told the performers.   "I'm gonna need some help here," he demanded as the band shifted to perform Beatles' cover "With a Little Help From My Friends".
As Duritz took center stage with the piano, it was clear that those onstage were enjoying themselves as much as, if not more than, those in the audience.
An impressive feat, considering fans were encouraged by the band to leave their seats to crowd in front of the stage, welcoming them to dance and sing along with the performers.
"It was the best show I've ever been to," said fan Cristina DiCarlo.
In a time when encores are expected, set lists are leaked on message boards and opening acts are often passed over, Counting Crows and the "Traveling Circus and Medicine Show" bring something original to the table.
The "Traveling Circus and Medicine Show" tour runs through Aug. 24, when the bands make their final stop at the Ravinia Festival in Illinois.   For a full list of tour dates, visit the band's official website at www.CountingCrows.com.
Tags:
Augustana
,
Counting Crows
,
NOTAR
,
Traveling Circus and Medicine Show