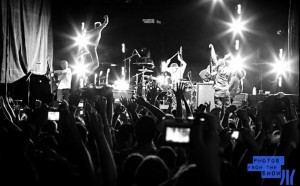 NEW YORK – Though it has been six years since Something Corporate released new music, the influential tunes haven't escaped from fans' hearts.
On a perfectly temperate summer evening, the line to get into the Roseland Ballroom wrapped around a New York City block a half hour before doors were set to open.   The crowd demographic comprised those in their mid 20's who grew up on Something Corporate, as well a smattering of younger folks who probably heard the dude from Jack's Mannequin was going to be there.
When the band finally took the stage, to "Reunited" by Peaches and Herb, the crowd went absolutely ballistic.   It was very obvious that Andrew McMahon was not trying to hide his gigantic grin, happy to be playing these songs to so many people.
"All I wanted was for my songs to make it on the radio, but you people are my radio," McMahon told the audience. "We haven't played a show in five years but by word of mouth you sold out Roseland Ballroom!"
The band made its way through songs that every person wanted to hear, and even broke out "Globes and Maps" for this occasion, with McMahon confessing that he had to relearn it that day.   Whenever he asked for assistance, the crowd was more than willing to lend its vocal talents as they did prior to the performance during "Say It Ain't So" by Weezer as it played through the venue speakers.   New York was called the "craziest looking audience," as well as "great sounding," and every member of the sold out audience was indeed a bit crazy.   There was breathing room to be found in the back of the venue, but the fanatics and the drunks were hard to miss, especially towards the end of the evening.   The second-to-none dancing and singing along  added to the congestion of the probably-oversold venue.   The energetic crowd, with the end of every song played over the sound system bringing a chorus of cheers, hoped the band would make its way to the stage.
It was a bit disappointing to have a $40 ticket end with one band playing a standard headlining set without opening bands.   In addition, T-shirts were $25 and hoodies ran in the neighborhood of $50.   Five years ago, while the band was still making music, those prices were cut in half and the headlining set time was approximately just as long.   It is a shame that the band is solely doing this reunion tour with merely "thoughts" of a full tour and writing material together.   If bands like Something Corporate were selling out 3,000-plus-capacity venues while they were together the first time around, there would be no need for a reunion because they never would have gone on hiatus.
Regardless, this band warmed the hearts of so many while in their prime, and for however long this reunion lasts they are sure to do it again.
Tags:
Something Corporate