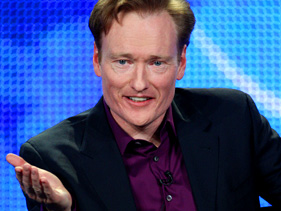 Friday night's episode of "The Tonight Show" was Conan O'Brien's final one after only seven months behind the desk. After a week of excellent, NBC-bashing humor and good-natured ribbing, O'Brien ended his tenure on NBC with an excellent hour of comedy.
He opened the show with a brief monologue and then moved right into a late-blooming bit that just popped up in the last few days: "The Expensive Thing That NBC Has to Pay For." The Friday night version, according to O'Brien, came directly from the Smithsonian: a complete fossilized skeleton of a ground slug. "And it's spraying beluga caviar all over an original Picasso!" O'Brien said joyously. "We just bought this on NBC's credit card to the tune of $65 million."
That was followed by a rather sentimental montage of highlights from Conan's seven months on the job, from his coast-to-coast run from New York to Los Angeles to his many encounters with animals. The package, scored by Cheap Trick's "Surrender" (as featured in his very first episode) ended with a card that said "To Be Continued."
As guests on his final show, Conan welcomed Tom Hanks, Will Ferrell, and musical guest Neil Young. But before he could get to the guests, he said he had to go through an exit interview with an NBC employee. That employee? "The Office" star Steve Carell.
"First question: Would you describe your NBC experience as positive, very positive, or extremely positive?" Carell joked. "Did anything trigger your decision to leave?"
Carell played the bit remarkably straight, even offering some words of encouragement, which he stole from the movie "Up in the Air." At the end, he demanded O'Brien hand over his ID badge, which got boos from the audience as Carell inserted it into a paper shredder.
When Hanks showed up, he brought two glasses of what O'Brien thought was scotch. "Around my house, they call this 'Daddy's Little Reward,' " he said. When they drank, he realized that it was just cream soda. "This is diet cream soda!" O'Brien joked.
Hanks then reminded the audience that he was the one who started calling O'Brien "Coco" on his second show. "In our house, you'll always be the host of 'The Tonight Show,' " Hanks said. "So if you could show up around 10:45, that would be great. And Rita and I will try to stay up for the full hour."
O'Brien then welcomed Neil Young, who he introduced as the first person to call him and offer support once the news came down about his losing his spot on NBC. Armed only with an acoustic guitar and a harmonica, Young performed a quiet, plaintive "Long May You Run," a Stills-Young hit from 1976.
Before Will Ferrell showed up to close out the show, O'Brien took some time to talk frankly to the fans. "There's been a lot of speculation in the press about what I legally can and can't say about NBC. Tonight, I'm allowed to say anything I want," he said. "What I want to say is this: Between my time at 'Saturday Night Live,' 'The Late Show,' and my brief run on 'The Tonight Show,' I've worked on NBC for over 20 years. This company has been my home for most of my adult life, and I want to thank NBC for making it all possible."
He continued, "Walking away from 'The Tonight Show' was the hardest thing I've ever had to do. This is the best job in the world. Every comedian dreams of hosting 'The Tonight Show,' and I got to do it, and I did it my way. I have had more good fortune than anybody I know, and if our next gig is doing a show in a 7-Eleven parking lot, we will find a way to make it fun."
By the time he got to thanking the fans at the end of his speech, he was choked up. "I want to say something, especially to young people: Please do not be cynical. I hate cynicism. Nobody in life gets exactly what they thought they were going to get. But if you work really hard and you're kind, amazing things will happen."
The show closed in epic fashion: Ferrell lead an all-star version of the "Tonight Show Band" (including Beck, Ben Harper, ZZ Top's Billy Gibbons, and O'Brien himself on guitar) through Lynyrd Skynyrd's "Free Bird." It was everything that made Conan's stint on "The Tonight Show" great: high-concept, hilarious, and more than a little absurd. In the end, O'Brien took the final guitar solo as Ferrell broke out the cowbell, and "The Tonight Show" faded to black.
The tribute went just a little bit longer into Jimmy Fallon's show, "Late Night With Jimmy Fallon," as he and The Roots performed an a cappella version of Boyz II Men's "It's So Hard to Say Goodbye to Yesterday" while the host poured a little liquor for his fallen homeboy.
Tags:
Conan O'Brien
,
Featured
,
The Tonight Show