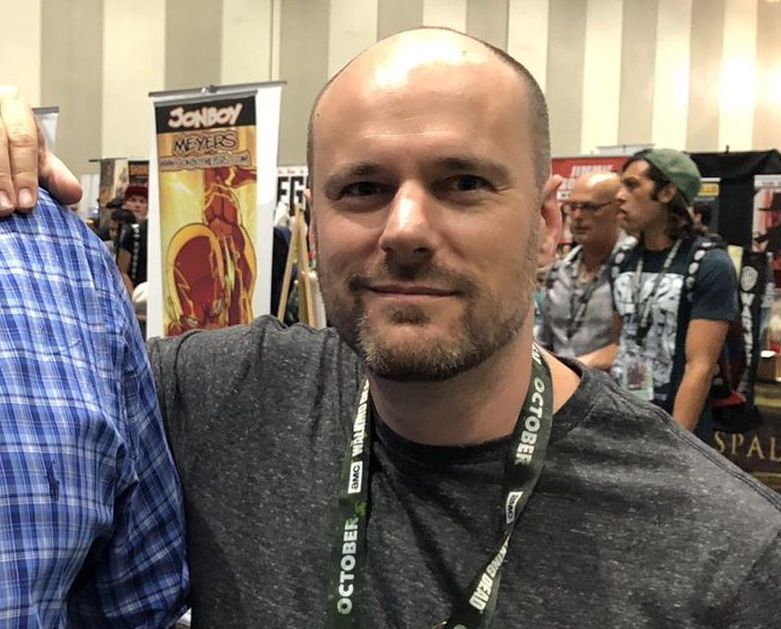 Image via Twitter
SDCC may be over for another year but the good news just keeps on coming: Topic Studios and Playground have announced they're developing a new drama series, States of America, written by Tom King. A dystopian story set in a war-torn and foreign-occupied US, States of America plays into the fears we all have over the war on terror and how divisions amongst the people can lead to new uprisings and battles.
"How often do you get to work with a bona fide former CIA officer turned comic book writer on a project involving national security and terrorism," said Lisa Leingang, SVP, Programming & Content at Topic Studios. "With Tom writing and our producing partners at Playground, we're incredibly enthusiastic States of America will deliver riveting drama for audiences to enjoy." King just took home the Eisner Award for Best Writer last weekend, and his contribution to the world of comics and graphic novels has been riveting and profound. This is one story you won't want to miss told from the perspective of someone who's seen the grave possibilities of one of the country's greatest fears.
Our resident comics geek and Geek Girl Riot host Philip Jean-Pierre says of the announcement, "King's storytelling prowess goes back to his youth where he interned at DC Comics and at Marvel where he worked as assistant to renowned X-men Comic writer Chris Claremont. King, after serving as a CIA counterterrorism officer, returned to writing and tapped his experience to craft epic stories of superheroes, action and geopolitical catastrophes, making him the perfect choice to helm the narrative voice of this broken US."
Topic Studios, known for their work on the Academy Award winning documentary film Spotlight, and Emmy, BAFTA, Golden Globe winning producer Playground are developing the one-hour dystopian drama series. Stay tuned for more details about States of America, and in the meantime take a listen to our SDCC 2018 recap on Geek Girl Riot!
Tags:
Eisner Awards
,
Geek Girl Riot
,
GGR
,
Philip Jean-Pierre
,
Playground
,
San Diego Comic Con
,
SDCC
,
States of America
,
Tom King
,
Topic Studios