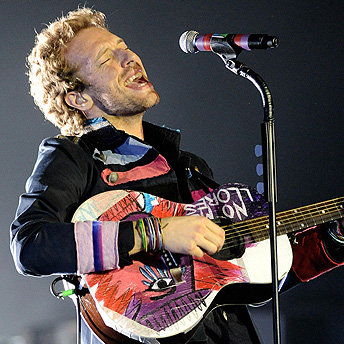 Coldplay's Chris Martin recently talked about what's in his stereo, Viva la Vida's next single and the "Viva"-related lawsuits the band is currently facing.
First, guitarist Joe Satriani sued the band, claiming their Grammy-winning "Viva La Vida" ripped off his instrumental "If I Could Fly." More recently, Cat Stevens, or Yusuf, has chimed in, claiming Coldplay stole the melody for the song from his own "Foreigner Suite." Still, all the legal woes don't have Martin down.
"Yeah, some people are suing us at the moment and although it was initially a bit depressing, now it's become really inspiring," Martin said. "You think, 'Right, if everyone's trying to take away our best song, then we'd better write 25 better ones.' And so just at the point where I was thinking about getting fat and becoming complacent, I've been finding more inspiration. Now we've got more to prove than ever before."
Martin also added that Viva's next single "Strawberry Swing" was inspired by Delakota's "The Rock" to dissuade any potential lawsuits when the next single hits.
Talking about Coldplay's current North American tour, Martin said he hopes to add one breaking talent to a roster of openers that includes Snow Patrol, Elbow and Pete Yorn.
"We're hoping to get Bat For Lashes for some dates, too. Her album, Two Suns, is my current favorite contemporary record," Martin said, not forgetting to note that his stereo is pumping Black Eyed Peas' "Boom Pow Pow" and Green Day's 21st Century Breakdown.
Finally, Martin failed his geography quiz, incorrectly guessing that Iowa capital Des Moines was in Indiana.
"Spinal Tap fans will understand. That's why I've known about Des Moines for a long, long time. And I can't wait to go there," he joked.