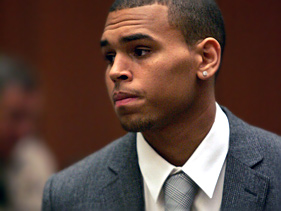 Two months after an alleged altercation with girlfriend Rihanna that resulted in his arrest, singer Chris Brown, 19, is due in court Monday to be arraigned on felony charges of assault and making criminal threats.
Brown, who has kept a relatively low profile since his February 8 arrest, is also expected to enter a plea at today's arraignment, which is a formal reading of the criminal complaint against the singer.
A spokesperson for the Los Angeles District Attorney's office reached prior to the appearance said that the court did not know if Brown's attorneys would enter a plea on Monday or ask for another extension.
Sandi Gibbons, the spokesperson for the DA's office, said that it is up to the court to decide what sentence Brown will face, but that sentencing guidelines call for anything from probation to probation with jail time, up to a maximum of four years and eight months in federal prison.
Brown's attorney, Mark Geragos, did not return calls for comment at press time.
Though she's not required to be present at the arraignment and is not expected to attend, Rihanna's attorney has said that she is planning on being a cooperating witness in the case and, if subpoenaed, will testify against Brown.
After reportedly reconciling last month, the couple have not been seen together in public for several weeks. Brown did not enter a plea at his arraignment on March 5, where his lawyer asked for a continuance in the case. If Rihanna refuses to testify, experts have said it could jeopardize the case because her statements to police can only be used against Brown if she agrees to provide testimony.
Gibbons said that if Brown enters a plea at the arraignment, the next step in the process would be a preliminary hearing, at which time the prosecutor will present the state's evidence and Brown's attorneys would have a chance to examine the evidence and make motions and cross-examine the witnesses. At the end of that hearing, the judge typically determines if there is sufficient evidence to move the case to trial.
Among the evidence prosecutors will likely introduce is a copy of a disturbing police report detailing the timeline of the alleged altercation, which was reportedly set off when Rihanna found a text message on Brown's phone from a woman with whom the singer had a previous sexual relationship.