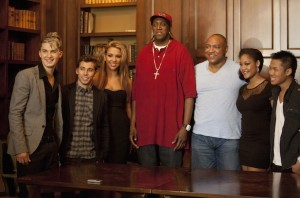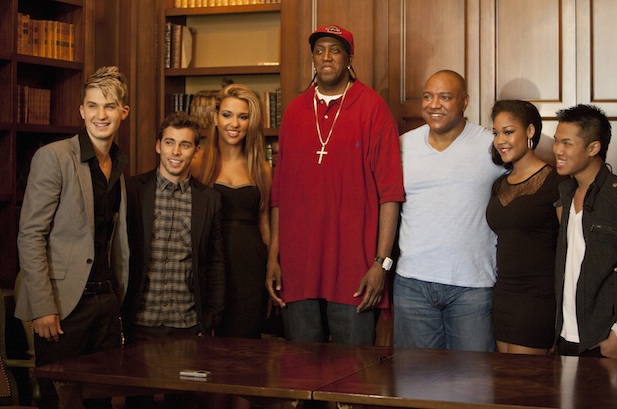 There's no doubt that Cash Money Records has solidified its status as one of hip-hop's most successful labels. With such acts as the Hot Boys, Juvenile and Birdman laying the foundation, Cash Money has since powered up a franchise that includes hot upstarts Drake and Nicki Minaj through its Young Money imprint.
The latter label was founded by longtime Cash Money rapper Lil Wayne, whose new album, "Tha Carter IV," is on track to hit No. 1 next week on expected first-week sales estimates ranging from 850,000 to 900,000 copies.
Now that Cash Money co-CEOs Ronald "Slim" Williams and Bryan "Baby" Williams have conquered hip-hop, they're moving into the pop arena. During a press conference at the Montage Hotel earlier this week (Aug. 29) in Beverly Hills, Calif., it was announced that Savvy has been signed as the label's first pop group.
The singing and dancing quintet comes with a built-in following: its members also star in the international TV comedy "The Wannabes," which is set to premiere in the United States on Sept. 5 on Starz Kids & Family. The members of Savvy – Shaylen Carroll, GiGi LeMaire, Drew Reinartz, Alan Shaw and Andrew Stern – are also in the studio working on their debut album for Cash Money/Universal Republic.
"We started with rap; now we want to expand into different genres," says Cash Money's Slim, who was joined at the press conference by label attorney Vernon Brown. "Savvy is a special group. They work hard; we work hard. We saw their energy and felt their passion. With [the addition of artists like] Jay Sean, Kevin Rudolf and now Savvy, we're ready to make Cash Money into a world company."
This isn't the first time that Cash Money has expanded its sights beyond hip-hop. The label signed late R&B singer Teena Marie in 2002. Her comeback album, "La Dona," was released in 2004. The gold-certified set was also the highest-charting album of her career, peaking at No. 6 on the Billboard 200 and generating the singles "I'm Still in Love" and "A Rose by Any Other Name," a duet with the late Gerald Levert. Her follow-up Cash Money album, "Sapphire," came out in 2006.
Since then, Cash Money has signed rocker Kevin Rudolf, whose hit debut single, "Let It Rock," featured labelmate Lil Wayne. And the label still has its hands in R&B, having inked British singer Jay Sean. Plus, producer/artist DJ Khaled, signed last year, is enjoying success with his No. 1 R&B/hip-hop single "I'm on One" (featuring Wayne, Drake and Rick Ross), from latest CD "We the Best Forever."
Hailing from Texas, Savvy came together in 2004 and later headlined Radio Disney's "Feeling Groovy" mall tour. After the group released its first CD, "The Road to Fame," the idea of creating a TV series was developed. Launched in 2009 and popular in Australia, Germany, Asia and Latin America, "The Wannabes" follows five high school students who attend a classical arts academy while pursuing their dream of becoming pop stars. Each of the series' 26 half-hour episodes features an original music video. When "The Wannabes" bows stateside, it'll be the lead show in the live-action programming block for Starz Kids & Family.
"When we first started in New Orleans, we had a lot of rap artists," Slim says. "But we always wanted to move into other genres. We are blown away by the range of talent in Savvy; they're a special group. They work together and embody the hardworking spirit of the Cash Money family.
"We're doing this for everyone," he adds, recalling when he and Baby sat down with Lil Wayne to talk about the rapper's visions for his career and beyond. "For us to continue to stay around, we have to expand," he says, noting that Cash Money is about to sign another label in the near future.