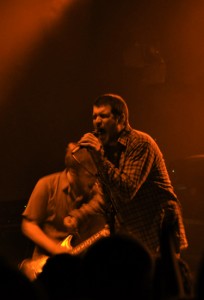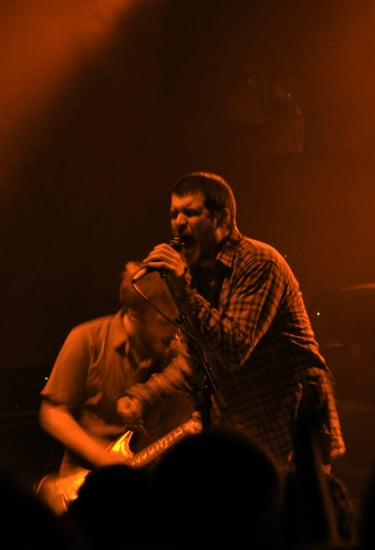 MELBOURNE, Australia — Glancing up momentarily from his guitar, Kevin Devine grinned at the crowd. His repeated proclamation of "Awesome!" mixed well with a guitar riff to produce a one-word song between him and the crowd, which by that point had effortlessly filled up all three levels of Melbourne's Palace Theatre.
The American songwriter known for his melodic tunes and introspective lyrics was opening for Brand New, which is touring in Australia to promote its latest album, Daisy, released in 2009.
"You guys are pretty amped up for a Sunday night!" Devine exclaimed to the Melbourne crowd before going on to play a stellar set with songs from Brother's Blood, including "I Could Be With Anyone."
The surprise addition of Brand New's Vincent Accard to the lineup pumped everyone up more, if that was possible.
The calm and collected Devine chatted with the audience in between songs, and was visibly pleased with the turnout at the event. And his closing number, unsurprisingly, was "Brother's Blood," which he delivered with remarkable fervor to elicit cheers and a round of applause.
Half an hour later, headliner Brand New sauntered on stage in true rockstar fashion, 15 minutes late and seemingly oblivious to the incessant chants and stamping of the crowd. Without so much as a word, the band launched into "Sink", setting the bar high for the rest of the 18-song set, which included selections from Daisy, The Devil and God are Raging Inside Me and Your Favorite Weapon.
A strong chorus of voices drowned out frontman Jesse Lacey's vocals such that it was near-impossible to hear him during numbers such as "Sowing Season", "Seventy Times Seven" and most of "Mix Tape". But notwithstanding the crowd seemed to enjoy the atmosphere and fans were intently locked on Lacey, even as he appeared barely coherent during breaks between songs and refrained from engaging the crowd in conversation.
In fact, Lacey was comparably more reserved than was his comrade that evening, Kevin Devine. But he made up for his aloof nature with a perfect delivery of each song that Brand New performed.
But he was not entirely aloof the whole time. Before a solo rendition of "Limousine" he thanked the crowd with clear and heartfelt emotion on behalf of the band, and then went on to close out the night on a high note.
Fans in the audience were overwhelmingly pleased with Brand New's performance, and said they looked forward to future performances with enthusiasm.
"I've been waiting almost three years [to see them]," said student Evelyn Moore, 20. "They just absolutely blew me away, I can't wait to see them again! I'm just so happy they played 'Jesus' — it was perfect."
Tags:
Brand New
,
Kevin Devine