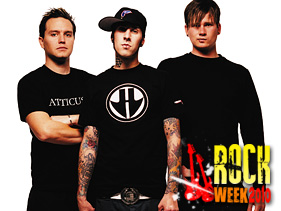 Though nearly a year has passed since Blink-182 announced its reunion, the wait for the trio's next album is not over.
It's been more than six years since Blink-182 released its untitled fifth album, which was born from increased tension within the band, carried with it the dreaded "mature" mantle, and eventually led to Mark, Tom, and Travis taking an "indefinite hiatus." It was, by all accounts, a pretty difficult time for everyone involved.
These days, things are different in the Blink camp. The band buried old beefs and reunited onstage at the 2009 Grammy Awards, talked about making a new album, then hit the road on a raucous arena tour. It was very much like old times.
And with a triumphant 2009 behind them, the band rolls into 2010 with one roadblock remaining: that aforementioned new album. They didn't play the one new track they'd completed – "Up All Night" – on their reunion tour, and, so far, the only recording plan we've heard of was Travis Barker's promise to include new Blink material on his upcoming solo album. Needless to say, the timetable appears to be slightly sketchy for when we'll actually get to hear any of the new stuff – let alone a new album. But that hasn't stopped fans from speculating that this will finally be the year that we get the follow-up to their 2003 effort.
But what will the new Blink sound like? Well, according to the guys themselves, probably not what you're expecting. Just last week, a Los Angeles production company called Handsome Randsome released a teaser trailer for their upcoming "Blinkumentary," which mentioned that Blink were definitely in the studio right now working on the album.
"No one really knows what to expect from the next Blink record, but I don't think anyone thinks it's going to be a straightforward rock record," guitarist Tom Delonge said.  "It's probably the most ambitious songwriting and art that we've ever made."
Then there's the new song bassist Mark Hoppus created with Fall Out Boy's Pete Wentz, for the upcoming "Alice in Wonderland" soundtrack. According to Wentz, the track – called "In Transit" – "sounds nothing like Blink" and was more the end product of a pair of buddies working together for the heck of it. Still, it is new music, and it seems to be in keeping with what DeLonge talked about in the "Blinkumentary" trailer.
There is no tentative release date scheduled for the album yet, according to Blink's label, Interscope Records.
Tags:
Blink-182