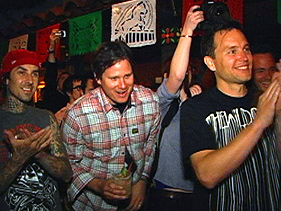 LOS ANGELES – There was a mariachi band, flaming margaritas and lots of musicians on Monday night at the El Compadre Mexican restaurant as Blink-182 took over the joint for a fiesta in celebration of their upcoming summer tour.
And while there were many festivities – the mariachi band belted out Blink tunes and the margaritas went late into the night – the party also served another function: breaking the ice. After all, when you've got a tour that's positively packed with bands (not just Weezer and Fall Out Boy, but a rotating cast of opening acts like Panic at the Disco, the All-American Rejects, Taking Back Sunday and Asher Roth, to name just a few), there's bound to be an odd act out. And Blink wanted to change that.
Blink bassist/singer Mark Hoppus said that the event was as much intended as a venue for band members to get comfortable with each other as it was to have a gathering in advance of the tour.
"It's always awkward when you first start touring, and it's the first day and there's a bunch of people walking around and you don't know who you're supposed to talk to or not, and some people are standoffish," said Hoppus. "So we thought, 'Why don't we throw a big party before the tour, everybody can come and hang out?' You know, get some beans, eat some Mexican food, bond. The guys in Chester French gave me some flowers. We bonded. It's going to be a good tour."
Oh, and about that tour: yesterday, after Blink appeared on KROQ's Kevin & Bean show, MTV News reported that, per a caller's suggestion, the guys were considering naming their summer jaunt "One-Way Ticket To Boneville." As it turns out, that name was actually "Bonerville" (you know, a tiny hamlet just west of Boneville), and though it's currently in the lead, Blink aren't quite ready to start printing up the tour T-shirts just yet. There are still other contenders to the tour name throne.
Guitarist/singer Tom DeLonge quipped about one choice he has for the name. Whether everyone else will go along, he says, is an open question.
"There's a new one that Mark is probably a little too scared to do, but I like it: 'Brokeback Mountain: The Tour,' " DeLonge smiled. "I thought that would be f—ing great, but there's some debate within the band about that."
Hoppus weighed in with his suggestion, only to immediately discount it in favor of the KROQ caller's raunchy title.
"I was also thinking of 'High School Musical 5: The Tour.' I don't know about something like that," he said. "Actually somebody called up on the radio station today and said 'One-Way Ticket To Bonerville' which I think is really genius… 'One-Way Ticket To Bonerville: Come for the ville, stay for the boner.'"
"I've been there," DeLonge added. "You don't need the other ticket."