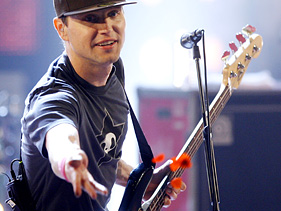 Throughout the week, we've been posting segments of our interview with Mark Hoppus. In part one, he spoke about reconnecting with his estranged bandmate, Tom DeLonge, and the possibilities of a full-blown Blink-182 reunion. In part two, he revealed plans for a solo album and said his other band, +44, is pretty much finished.
And while Hoppus has done most of the talking, we've also been hearing plenty from you too. Seems you've had plenty to say – not just about a reunited Blink, but about the end of +44 and the prospects of a Hoppus solo album. So we've decided to collect some of your best comments here.
It seems that pretty much everyone is in agreement that a Blink reunion would be a good thing, but some aren't so positive that it's really a sure thing.
"Tom [DeLonge] has made it very clear that a Blink reunion will not be happening … in a recent interview from The Electric New Paper, [he said,] 'I can understand if people in the audience want Blink-182 songs … but I don't think we need to play any of them. [Angels & Airwaves] is already an established band,' " MTV.com user Skalor wrote. "I am very happy to see Tom become friends with Mark and Travis, but please give the Blink talk a rest."
Others maintained that if the money were right, then it would top any longstanding beefs, and a Blink reunion is a near certainty.
"If the money is there – and it will be – they'll tour again. They don't have to get along on an artistic level to tour. In fact, they don't even have to write any new music," MCarpo wrote. "Although it would be nice if they did. Blink's music really evolved over time, and based on their post-Blink bands, Mark and Tom really need to challenge each other. By the way, +44's record was really good. Not sure why Mark didn't do more with those guys."
Oh yeah, and about +44. Judging from the comments we got, perhaps Hoppus should think twice before putting the project to bed and focusing on his solo record.
"This is so sad! +44 was my favorite band. I can't believe it," Alfred44 wrote. "And what about [+44 members] Craig and Shane??? That's unfair. This ruined my day!"
"Wow, I just cried," Theconster17 added.
Still, others are optimistic. After all, any music from Hoppus would be a good thing. And, who knows: With +44 out of the way, anything could happen.
"I don't think a solo album is a good idea, not because it wouldn't be good, but because it would probably take forever to come out. I don't know if he's just not motivated, or if he's just not a prolific songwriter (which is fine, considering that the ones he does write are really good), but three years after +44, he has nothing else ready to go," MCarpo wrote. "Mark wants to dabble in too many areas to focus on music right now. That's cool, I wish him luck. BTW, can't wait to hear the record he produced for New Found Glory."
"That's only so Blink can get back together," Chaser182 added about +44's demise.