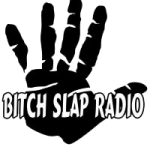 Tonight Bitch Slap Radio Returns to idobi radio!!!!!!!
That's right folks you sent us your emails, your text messages, your facebook wall posts and tweets, and now it has all paid off because Bitch Slap Radio RETURNS!!!!
Tonight we take the shirt off our new show! Bitch Slap Radio has been progressively turning more and more into a talk sports show so why not! Bitch Slap Radio is idobi Radio's first Online Talk Radio Show. Zac Drew and Chelse are going to rape your ears with all the sports and music you can handle. NFL, NHL, NBA, MLB no sport is safe, no team is safe, no player is safe.. We will rip everyone and anyone in good old Bitch Slap Radio style.
So Tune in Tonight at 10:00 Pm Est On idobi Radio for Bitch Slap Radio
Twitter: @Bitchslapradio @BlackGuyStuff