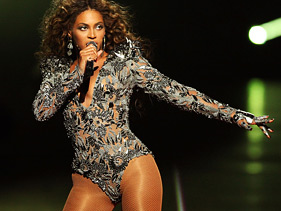 The years between 2000 and 2009 were very good for Beyoncé, 'NSYNC, Michael Jackson and Nickelback, according to figures released by the Recording Industry Association of America on Wednesday.
The music-industry trade association tallied gold (500,000) and platinum (one million) certifications for the first decade of the 2000s, and those coming out at the top of the heap also include Kanye West, Taylor Swift, Linkin Park, Flo Rida and Lil Wayne.
The big winner, though, was Beyoncé, who topped all lists with the most total gold and platinum certifications at 64, which includes tallies for cumulative album, digital song, master ringtone and music video certifications. She was followed by classic rock act The Eagles, who had 48 total certifications, and the late Michael Jackson at 44.
The group category in total album certifications was led by Nickelback with 25. Britney Spears grabbed the top female solo artist category at 23, and country act George Strait snagged the male solo title with 29. The top digital song certifications belonged to Taylor Swift with 25, followed by Kanye West (19) and Linkin Park (13) in the group category. Beyoncé (19) edged out T.I. (15) in the most master ringtone certifications race. Flo Rida's five-times platinum "Low" was the best-selling digital download of all time and Lil Wayne's five-times platinum "Lollipop" was the highest certified ringtone ever.
The decade's highest certified album sales award was a tie between 'NSYNC's No Strings Attached and Outkast's Speakerboxxx/ The Love Below, which were both certified at 11-times platinum, equaled in the female solo artist category by Shania Twain's Up! and just ahead of Usher's Confessions, which topped the male solo artist race with a 10-times platinum score.
While Flo Rida set the record, Lady Gaga and Taylor Swift both came close in the most certified digital song category, each going four-times platinum with, respectively, "Just Dance" and "Love Story." Coldplay and The Fray took the group honors with "Viva La Vida" and "How to Save a Life," respectively; both went three-times platinum.
Behind Wayne in the master ringtone section were Beyoncé's "Irreplaceable" in the female solo slot at three-times platinum and D4L ("Laffy Taffy"), Hinder ("Lips of an Angel") and the Shop Boyz ("Party Like a Rock Star"), who all hit three-times platinum in the group class.
Tags:
'NSYNC
,
Beyonce
,
Britney Spears
,
Coldplay
,
Flo Rida
,
Kanye West
,
Lady GaGa
,
Lil Wayne
,
Linkin Park
,
Michael Jackson
,
Nickelback
,
Outcast
,
T.I.
,
Taylor Swift
,
The Eagles
,
The Fray
,
Usher