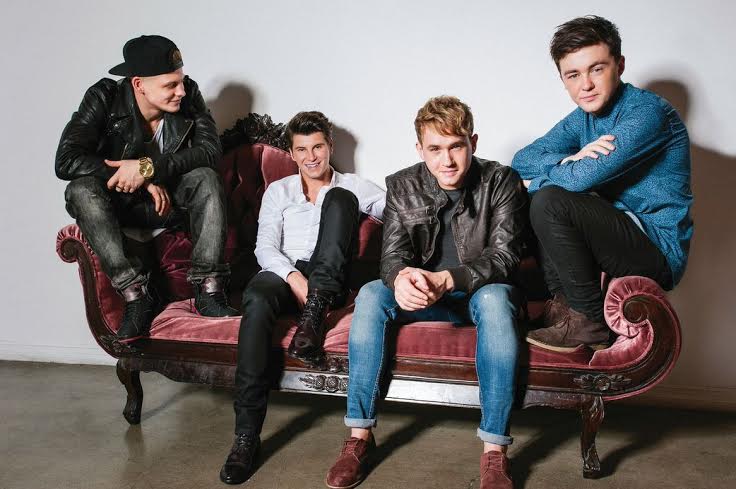 There's nothing quite like that first taste of success, and for UK-based pop band Rixton, their smash single "Me and My Broken Heart" has been that ticket. On top of dominating radio across the globe, the song has landed them spots on The Voice and The Ellen Show and was just certified gold last month. We went behind the song with the Scooter Braun-managed band to talk about the songwriting process, breaking through the mainstream, and the most memorable moments of their newfound fame.
It's All About the Chorus
With pop songs, you can usually tell if the chorus is or has the potential to be a a big pop chorus. When we first heard the vocal melody we had an idea that it was going to be a big track. I think we could all see the potential with where it could go and what we could do with it so it was very exciting.
Heartbreak and Inspirations
The songwriting stems from the universal feeling of having your heart broken, which pretty much everyone has experienced at some point in life. The actual process on all our songs usually starts from a really bad voice memo of either a vocal melody or piano melody. We all then tend to gather round a piano or guitar. It sometimes comes together pretty organically or quickly–it can take ten minutes but other times it can take ten weeks, or more! It's different for every song. For this particular song we were sent the chorus idea from [songwriter] Wayne Hector and we immediately fell in love with it and developed the song from there.
How About That Timing?
Probably the most memorable moment was when we got sent the chorus melody and a few days later Jake split up with his girlfriend, so in that moment it became very apt and relatable for Jake. I remember going into the studio, dimming all the lights, and Jake literally just belted it out. You could tell it was coming from the heart.
The States in Stereo
When the song first went to radio in the states, it was pretty strange as we were going around doing promos and it was on one or two stations, and as we went around we would hear it playing more and more. So it was great to actually see or hear the traction over a period of time as we were out there seeing it get on more stations and getting more plays per day and we could tell its popularity was growing pretty rapidly. The initial response was pretty overwhelming. We're just 4 dudes from England and we were getting recognition from great and influential people.
The Voice, Ellen, and Wembley
When we got asked to go on The Voice that was pretty special, and Ellen, but it's kind of hard to pinpoint one [defining moment]. I mean, there's been so many and you kind of get caught up in it, then afterwards you look back and you're like, "Wow, did that really happen?" Playing Wembley was just unbelievable. 80,000 people! We are still just enjoying the ride and all the amazing opportunities we get.
Usher on the Air Drums
(Lewi Morgan, drums) For me personally [the coolest experience] was when Usher was air drumming to me playing this song. Usher has always been a massive inspiration to all of us. We all listen to him and he kind of links all our tastes through RnB, and to see him drumming along to me drumming was very cool. As a band the coolest thing is probably when we played Wembley and saw people singing the words to our song. That was just insane.
Inevitably Scooter Braun+Ellen Degeneres=becoming best friends with Mr. Bieber…right?
I wouldn't say we are best friends with him but we have met him like 4 or 5 times and he's always been really friendly to us. He's an extremely busy guy and he's always in the studio and we are super busy right now so we have never hung out for prolonged periods of time but every time we have seen him he's been really cool.
Tags:
Rixton