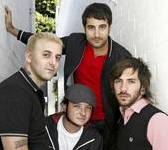 Long Island-based punk quartet Bayside has signed a comprehensive recording, merchandising, publishing and artist development contract with New York-based indie Wind-Up Records, home to Cartel, Hawthorne Heights and others.
"Wind-Up's employees are genuine fans of our band and share the same vision that we have for the future of our sound and career," frontman Anthony Raneri explained.  "We are so glad to have found a home where they share our passion for creating music and not a product."
"When Bayside became available, I immediately went out to see a live show and I was blown away by their creativity and energy," Wind-Up President Ed Vetri said.
"This is a band that has done the heavy lifting, put in the time and effort needed to build a strong core fan base, and has consistently delivered to that core base over the years. We share the same vision as Bayside, and within our business model, we will be able to provide the platforms necessary to allow the band to do what they do best, create great music and perform live!"
The band, formed in 2000, signed with Victory Records in 2003 and released four studio albums through that label, the most recent of which being 2008's Shudder.  Bayside will release  its Wind-Up debut this fall.
Tags:
Bayside