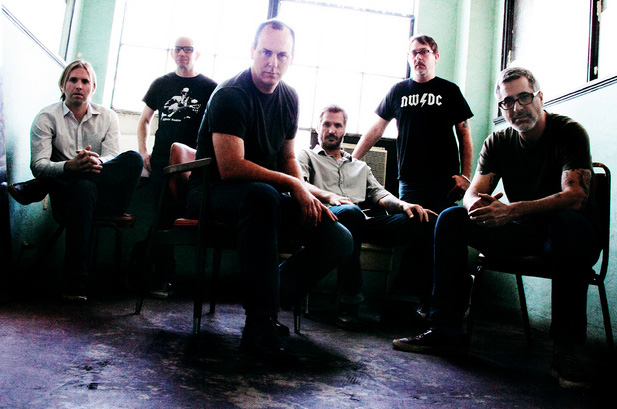 Reaching a 30th anniversary has been a "weird" experience for Bad Religion bassist Jay Bentley.
"It doesn't feel like 30 years," Bentley, one of the California punk rock group's co-founders, said. "It's just been happening and been a big part of my life. It wasn't something that happened 30 years ago that we're celebrating an anniversary of; it's 30 years of this band, 30 years of a scene. That's kind of how we're thinking about it. If we start looking at it as what we are, what we did, it seems pretty weird. We just know it's been a long time."
Nevertheless, Bad Religion did not approach its just-released new album, The Dissent of Man, as part of that commemoration.
"When the concept of this album came up, we started talking…'What exactly is a 30th anniversary album? Do you open it up and cake comes out?' " Bentley recalls. "It makes sense that an anniversary album would be a retrospective or a best-of. But if you make a new album, how do you approach it? We just made it like another Bad Religion album."
Bentley says that the group "talked about this album far more than working on it," with writing starting in 2008 just after the sextet toured to support 2007's New Maps of Hell.
Touring and other commitments, including frontman Greg Graffin's teaching responsibilities at UCLA and co-writing the new book "Anarchy Evolution: Faith, Science and Bad Religion in a World Without God", delayed the sessions along with the band's touring plans.
"I started writing the book with Bad Religion's 30-year anniversary right around the corner," says Graffin. "The fact that punk rock is still viable after 30 years, that means something to me. That benchmark is what got me thinking about my dual roles in music and with evolution and science. I wrote to make sense of those two things, because every step of the way people have asked me to justify my dual career."
By May, Graffin and guitarist Brett Gurewitz had stockpiled plenty of material for the group to work on.
"It was pretty organic," says Bentley, who along with drummer Brooks Wackerman helped Gurewitz demo his tracks, including "Cyanide," which features Mike Campbell of Tom Petty's Heartbreakers on guitar.
"They both came up with enough songs for us to sit down and star working on an album. The majority of the songs from Graffin started to come in around December-January; he just showed up with a pile of songs and we were like, 'Wow, we thought you were writing a book.' 'Nah, I've got all these songs…' "
Bentley says he was particularly surprised to hear "a lot more personal songs from Greg. I think Greg wrote some really wonderful, personal lyrics here; a song like 'Avalon' really caught me off guard. It's in the comfort zone of Bad Religion, but…it's beautiful, which is an adjective you wouldn't necessarily use to describe a quote-unquote punk rock band."
Bad Religion is currently on the road in North America promoting The Dissent of Man, wrapping up Nov. 20 in San Francisco. Bentley says the group is planning to play three radio station-sponsored holiday shows in December with no other plans at the moment.
"We've got a few interesting options to go out with some other bands, offers to go to other countries, but we're playing it by year," he notes.
30 years in, the band has accepted its role as mentor to up-and-coming rock acts; Graffin, for one, takes pride in playing the role of the elder.
"It's an important part of our culture, because it ties the past to the present and it helps anchor tradition," says Graffin. "Bruce Springsteen is a perfect example of an elder. You see his shows now and they look pretty much the same as the classic shows of the 70s, he's deffintely the connection between that era and the present. Since about '07 or '08, he and I have become sort of acquiantances and friends, he's brought his kids  to our shows. It was a great thrill for me to discuss songwriting backstage in New Jersey."
Tags:
Bad Religion