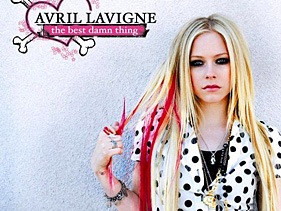 Despite taking a 58-percent drop in sales during its second week in stores, Avril Lavigne's  The Best Damn Thing  remains the nation's top-selling LP, scanning more than 121,600 copies to hold onto the peak position on  Billboard's albums chart. Sultry R&B crooner Joe debuts at a distant #2, having sold 98,000 copies of his latest outing,  Ain't Nothin' Like Me.
The only other new release to breach the chart's top 10, according to the latest SoundScan figures, comes from Britpop titans the Arctic Monkeys, who'll bow at #7 on 44,000 copies sold of their sophomore offering,Favourite Worst Nightmare.  Dropping one space to #3 this week is Nine Inch Nails'  Year Zero,  which also suffered the second-week sales slump blues; the disc generated close to 57,700 scans, with overall sales of the album falling 69 percent.
Coming in at #4 this week is the 24th installment in the  Now That's What I Call Music!  franchise, which sold 55,000 copies and features song contributions from the likes of Fergie, Nelly Furtado, Ciara, Beyoncé, Nickelback and Daughtry. Following at #5 is the self-titled debut from "American Idol" season-five finalist Chris Daughtry's eponymous rock outfit; the record scanned 48,500 units last week, bringing total sales of the disc beyond the 2.3 million mark.
Akon's  Konvicted  spends a second week in the #6 position, with 45,400 copies sold. Carrie Underwood's  Some Hearts  fills the #8 slot, selling 44,000 units (and bringing the album to a whopping 5.3 million sold), followed at #9 by Martina McBride's  Waking Up Laughing,  with sales of 37,000 and change. Rounding out the top 10 is Tim McGraw's  Let It Go,which sold 36,900 copies during its fourth week at retail.
In all, there were just 17 newcomers to this week's  Billboard  albums-sales chart, including Neil Sedaka's  The Definitive Collection,  which generated 24,000 scans to take the chart's #22 spot. Donny Osmond'sDecades, Vol. 1: Love Songs of the 70's  bows at #27, with 21,600 copies sold, while R&B legend Chuck Brown's  We're About the Business  opens at #37 with 16,500 scans. Swedish metallers Dimmu Borgir's  In Sorte Diaboli  sold 13,800 copies to open at #43, while Calle 13's  Residente o Visitante  follows at #52 with 12,300 sold.
Porcupine Tree hit the top 200 at #59, with their latest,  Fear of a Blank Planet,  scanning just eight copies more than Patti Smith's  Twelve,  which follows at #60. The  Snoop Dogg Presents the Big Squeeze  mixtape takes the #71 spot with 9,600 copies sold, while  A Tribute to Joni Mitchell,  featuring covers by Björk, Prince, Elvis Costello and others, bows at #103 with approximately 7,000 sales.
Kingspade's  P.T.B.  checks in at #110 with 6,500 scans, while the debut LP from Rage Against the Machine guitarist Tom Morello's Nightwatchman project,  One Man Revolution,  follows at #119. Simply Red's  Stay  owns the #156 slot, with around 4,800 sales, while Bebel Gilberto's  Momento  comes in at #169. Finally, debuting at #196 is Charlotte Gainsbourg's  5:55,  which sold approximately 4,200 copies.